Caseworker Adopts Orphan Davion Only After Failing to Find Matching Family for Boy Who Pleaded With Church for a Home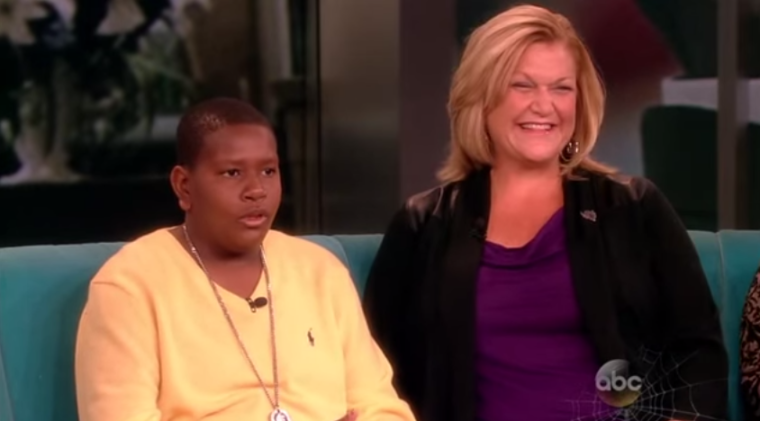 A 15-year-old orphan boy who captured the hearts of thousands across the world in 2013 after he desperately begged a Florida congregation to adopt him has finally found a home. And it's with, Connie Going, the caseworker who had been trying to find him a home since he was 7.
Worried about never finding a home before aging out of the system, the teenager asked Going to take him to the St. Mark Baptist Church in St. Petersburg, Florida, in 2013 where he made the heartbreaking plea that bent the world's ear.
"My name is Davion and I've been in foster care since I was born ... I know God hasn't given up on me. So I'm not giving up either," said Davion, who was born while his drug-addicted mother was in jail. She died there in 2012.
"I'll take anyone," he pleaded with the 300-strong gathering at the church. "Old or young, dad or mom, black, white, purple. I don't care. And I would be really appreciative. The best I could be."
His desperation struck a nerve with thousands across the world and the Eckerd's Carlton Manor residential group home, where he lived with 12 other teenage boys at the time, was flooded with more than 10,000 enquiries about adopting him.
Last Spring, according to The Tampa Bay Times, Davion thought he had found a home with a minister in Ohio who wanted to make him a part of his family. A fight with one of the minister's kids, however, upended that relationship. The family flew him back to the group home and left him right where he started.
Now, 16, Davion spent last summer thinking no one would ever want him until he made a call to Going, the caseworker who had been like a mother to him most of his life.
Every year for almost a decade, according to The Tampa Bay Times, Davion had begged Going to adopt him.
"Why don't you just adopt me, Miss Connie?" he asked repeatedly.
"Because you deserve more," Going kept saying. "You need a dad."
A divorcée with two teenage daughters of her own, Going did not think she was in a position to adopt Davion even though she brought him home with her sometimes on the weekends to hang out with 10-year-old Taylor, who she had earlier adopted from the group home. He was Davion's best friend.
When Davion left for Ohio, says the Tampa Bay Times report, Going helped him pack a small bag and prayed for him every night. When she heard that he had been sent back from Ohio, she worried about how he was hurting. So when she answered his call last summer, she was ready, particularly because things in her life had taken a turn for the better.
"Do you remember what I asked you before?" Davion asked her on the call. "I mean about … how do you feel about adopting me now?"
Going told him "yes." She was no longer Davion's caseworker and had started working for Heart Gallery, an organization that helps find forever families for children like Davion. She had even discussed adopting Davion with her children and they felt it was the right thing to do.
Last December Going called an adoption agency, hired a lawyer and rented a new house with four bedrooms and a pool and moved Davion in for good.
"He brought a garbage bag stuffed with T-shirts, a backpack crammed with video games. And the Bible they'd given him at his group home," said the Tampa Bay Times.
"I guess I always thought of you as my mom," Davion told her just before Christmas, the Times report added. "Only now I get to call you that for real, right?"
In February, Going and Davion celebrated their birthdays on the same day.
"Connie took Davion to get his driving permit. Davion took her to get a pedicure. That night, over cake, with Davion's three new siblings by his side, they signed the court papers."
The adoption will be official on April 22.