Castro Claims Cuba 'Defends Human Rights,' Has No Political Prisoners at Obama Press Conference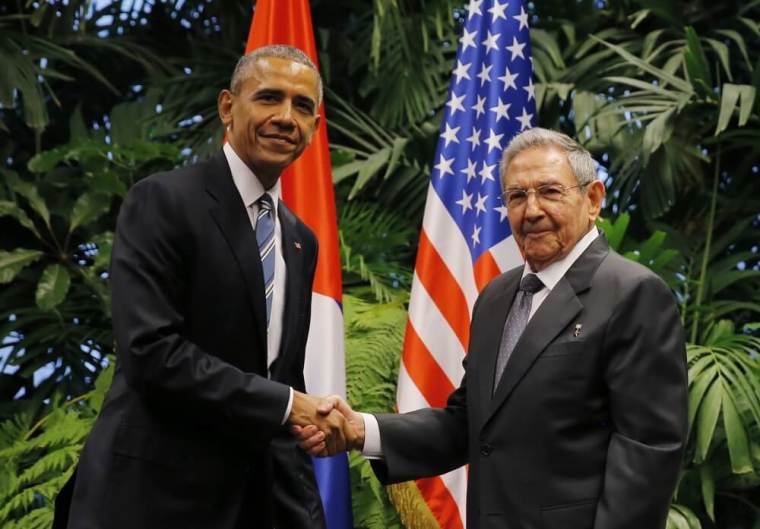 President Barack Obama and Cuban President Raul Castro discussed human rights during a joint press conference on Monday, marking the second day of the U.S. delegation's visit to the Caribbean country.
Obama touched down at Jose Marti Airport in Havana for his three-day visit on Sunday, where he was greeted by Cuban Foreign Minister Bruno Rodriguez and Cuban Ambassador to the U.S. Jose Cabanas.
In a move that was seen as a victory for the Administration, Castro agreed to join Obama in a joint press conference with reporters on Monday. During the brief meeting, the two fielded questions regarding human rights and trade embargoes, among other topics.
The press briefing became momentarily tense when Castro was questioned about politicial criminals in his country, to which the leader replied: "Give me a list of political prisoners and I will release them."
"We defend human rights, in our view civil, political, economic, social and cultural rights are indivisible, inter-dependent and universal," Castro argued. "Actually, we find it inconceivable that a government does not defend and ensure the right to healthcare, education, social security, food provision and development."
"It's not correct to ask me about political prisoners in general," the Cuban president said.
Obama added that there is a renewing of relations between the two countries, saying "it's fair to say the U.S. and Cubans are now engaged in more areas than at any time in my lifetime."
He also indicated he had and Castro had spoken "frankly" on important issues like human rights earlier in the day, acknowledging that there are still several differences between the two countries. "Our starting point is that we have two very different systems ... and decades of profound differences."
Ahead of Obama's arrival in the Communist country Sunday, over 50 protesters were arrested in the city of Miramar, outside of Havana.
The demonstrators, who are members of the Ladies in White activist group, told reporters that they were marching ahead of the president's visit to call attention to Cuba's human rights offenses.
"For us, it's very important that we do this so President Obama knows that there are women here fighting for the liberty of political prisoners," Berta Soler, one of the founding members of the activist group, told USA Today before her arrest. "And he needs to know that we are here being repressed simply for exercising our right to express ourselves and manifest in a non-violent way."
The president's visit to Cuba, which wraps up on Tuesday, was not praised by everyone, with 2016 presidential candidates Sen. Ted Cruz and Donald Trump denouncing the trip.
Cruz, whose father had been a political prisoner in Cuba, wrote in an op-ed for Politico that Obama's visit sends a discouraging message to "political prisoners languishing in dungeons across the island."
The political prisoners "will not be on TV, rubbing elbows with the Obamas or left-wing politicians like Nancy Pelosi. There will be no mojitos at the U.S. Embassy for them. Raul Castro denies their very existence," Cruz added.
Trump added in a statement that he found it disrespectful that Castro was not present at the airport to greet Obama when his plane arrived on Sunday.
"Wow, President Obama just landed in Cuba, a big deal, and Raul Castro wasn't even there to greet him. He greeted Pope and others. No respect," Trump tweeted on March 20.