Catholic leaders in China urge Pope Francis to not make compromises, use them as scapegoats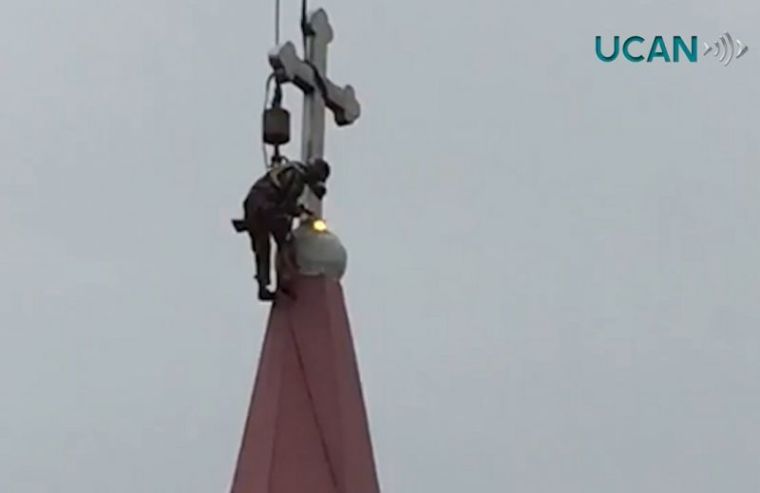 Eight Catholic church leaders from the diocese of Datong in China have issued an open letter pleading with the Vatican to help in the persecution that they face and to not make compromises with the Chinese government.
AsiaNews, which provided a translation of the letter earlier this week, revealed that the church leaders address the government that they say is denying them religious freedom, but also the faithful around the world.
The Datong priests, who have been without a bishop since 2005, declare in their letter that they "cannot sit down silent without any concern, even more we cannot stand by with folded arms."
"What is worth of our concern is the freedom of religious faith since it is a fundamental human right, that cannot be violated, forbidden or taken away. Obviously, many statements and proposals of the Government, we must not necessarily agree upon and accept, some of them we even oppose," they wrote.
"But, it is not possible to take away our freedom and right because we have a different faith. As a community of believers, we are even more concerned with the freedom of speech, since it cannot be separated from freedom of religion: without one there cannot be the other!"
The church leaders continue: "We now receive your control. The cross of our church and even the whole church has been demolished. The freedom of the faithful to attend our meetings is opposed. The church is forced to accept the guide of the Chinese Government. All these things make us worried and dissatisfied."
They add: "As believers, we know that the future decides the present. With this joint declaration of ours we hope that you can respect the right of the Church, respect every person: this is a bottom line that cannot be overtaken."
Further detailing the persecution they have faced, the Christians state that the Communist government has blocked them from buying Bibles from the internet, and has restricted large congregation meetings.
They also express concern about the reported deal between the Vatican and China to elect bishops as chosen by the government, fearing that the Holy See might "make compromises," turning them into "scapegoats in order to establish diplomatic relations."
Both underground and officially registered churches in China have faced crackdowns, with pastors arrested and congregations prevented from meeting. Churches have been demolished, and there have been reports that Communist officials have even burned Bibles.
Tenzin Dorjee, chair of the U.S. Commission on International Religious Freedom, told The Christian Post in an email in September that President Xi Jinping's "clenching fist" is targeting religious minorities like never before.
"At a time when faith is flourishing in China, Beijing is cracking down on religious believers, approving only those individuals and groups who agree to a rigid, socialist version of religion tightly controlled by the atheist government," Dorjee said.
"Anyone who runs afoul of Beijing by choosing to follow their own conscience is at risk of discrimination, harassment, detention or enforced disappearances, imprisonment, and even torture. No one is safe from Beijing's wrath," he added.
USCIRF commissioner Johnnie Moore, who serves on the evangelical advisory board for U.S. President Donald Trump's administration, further told CP that the worsening persecution goes against reason.
"I think that China, under Xi's leadership, is having a relapse to a time in Chinese history that did not bring economic prosperity, but did bring isolation from the world and countless examples of unnecessary suffering," Moore argued.
"For some strange reason, at such a moment of opportunity, the Chinese leadership is choosing to embrace the methodology of the past," he added.