Catholic priest James Martin stands by retweet of post calling God 'Her'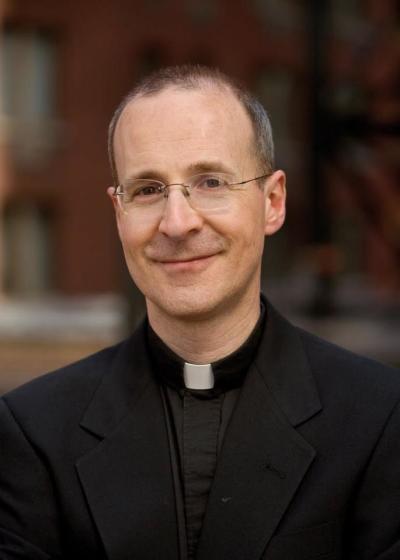 A Catholic priest has responded to criticisms from Christians who rebuked him for retweeting a post referring to God as "Her" and suggesting that using female imagery as a representation of God is "theologically correct."
Fr. James Martin, who has developed a reputation as a progressive Catholic and serves as an editor at large for the Jesuit publication America magazine, wrote an article for International Women's Day titled, "God is not a man (or a woman)."
Martin began the piece by noting that he inadvertently caused controversy after he shared a reflection from the director of a campus ministry at a Catholic high school in Cleveland, Ohio, on social media on Feb. 28. In the reflection, Vickey McBride referred to God as "Her."
Following accusations of "heresy, apostasy, and blasphemy," Martin said that he considered leaving a comment asserting that "I was simply reposting the summary from Catholic Women Preach." He ultimately decided not to because "that would imply that I had a problem calling God 'Her.' And I don't."
"God is not a man," he declared. "And while Jesus Christ was (and is) a man and invites us to call God the Father, that does not mean that God is male or that God is only masculine."
Describing it as "just as theologically correct to use feminine imagery about God as it is to use masculine imagery," Martin pushed back on the belief among most Christians that referring to God using female pronouns is "contrary to our faith."
He claimed that it's "damaging" to "envision God as solely one gender" and argued that "in predominantly patriarchal cultures, Christians have been conditioned to think of God as not only male, but exclusively male."
"This has wide-ranging consequences for our theology, the way that we worship in common, how we pray on our own and the manner in which we lead our lives as Christians. It also has profound consequences for how we see women. 'If God is male,' as the saying goes, 'then the male is God.'"
Martin attributed his views about the gender of God to a book titled, She Who Is: The Mystery of God in Feminist Theological Discourse, written by Sister Elizabeth Johnson, a Catholic nun who now works as a Distinguished Professor Emerita of Theology at Fordham University.
The book concludes that "conceptions of God as an earthly monarch, to take just one image, gave rise to an 'oppressive and idolatrous' image of God as a literal patriarch."
As Martin explained, Johnson pointed to several passages from the Bible when making the case that "God is our 'Mother-Creator' as much as 'Our Father.'"
"She considers the maternal image of 'the God who gave you birth' in Deuteronomy (32:18) which recurs in Isaiah, with God saying, 'Now I will cry out like a woman in labor/I will gasp and pant' (42:14)."
Martin's contention that God is female is not the first time the Jesuit priest has attracted controversy. Earlier this year, Martin tweeted a picture of the Black Madonna painting with rainbow-colored halos surrounding Mary and Jesus as opposed to the golden halos in the original Black Madonna painting.
The website Life Petitions began circulating a petition urging the Jesuit Order to censure Martin for the tweet in light of the fact that the Black Madonna painting, also known as Our Lady of Czestochowa, is "venerated and revered in Poland as representing the Virgin Mary, who is the patroness and protectress of the country." The petition gathered more than 22,200 signatures.
Martin, who is one of the most ardent supporters of LGBT advocacy within the Catholic Church, tweeted the altered picture of the Black Madonna when claiming that "homophobia is rampant" in Poland. Martin is not the only progressive who has referred to God using female pronouns.
After congressional Democrats unsuccessfully tried to convict former President Donald Trump of inciting an insurrection, Rep. Eric Swalwell, D-Calif., one of the impeachment managers who worked to make the case against Trump, remarked that "We could have called God herself and the Republicans weren't going to be willing to convict."
Similarly, as the 117th U.S. Congress began its first session in January, Rep. Emmanuel Cleaver, D-Mo., concluded a prayer by saying, "Amen and awoman" in an attempt to come across as gender-inclusive, as opposed to "Amen." The word "Amen" has nothing to do with gender, it simply means "so be it." Cleaver also prayed to the Hindu god Brahma instead of the Christian God.