Center for Medical Progress Releases 9th Video in Planned Parenthood Baby Parts Scandal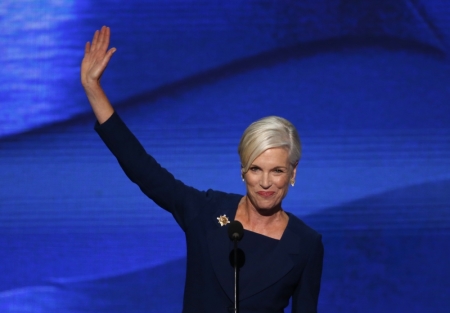 Anti-abortion outfit The Center for Medical Progress released a ninth video Tuesday on the Planned Parenthood baby parts scandal focusing on the organization's relationship with Advanced Bioscience Resources, a company that has reportedly harvested and sold fetal body parts at Planned Parenthood clinics longer than any other entity.
The undercover video shows paid actors posing as a new human biologics company in conversation with Dr. Katharine Sheehan, a long-time medical director of Planned Parenthood of the Pacific Southwest who left her position in 2013; Perrin Larton, procurement manager for ABR; and Cate Dyer, CEO of rival fetal tissue procurement company StemExpress.
"We have already a relationship with ABR," Sheehan explains in the video. "We've been using them for over 10 years, really a long time, just kind of renegotiated the contract. They're doing the big collections for government-level collections and things like that."
In a recent letter to Congress, Planned Parenthood CEO Cecile Richards admitted that affiliates have received up to $60 "per tissue specimen" which CMP argues is evidence of the illegal sale of baby parts.
"We now know from Cecile Richards' letter that $60 per collected tissue specimen is what will 'get a toe in' to harvest baby parts at Planned Parenthood Pacific Southwest," CMP Project Lead David Daleiden noted in an open letter to Congress Monday.
"Instead of practicing transparency about the fetal tissue supply that Planned Parenthood claims to be so 'proud' of, the organization and its allies are engaging in a pattern of stonewalling Congress and law enforcement and attacking whistleblowers with false and unsubstantiated calumnies," Daleiden continued.
He then noted that the investigation into Planned Parenthood which is funded by $528 million from taxpayers needs to focus on two key admissions made by Richards in her letter to Congress.
"Richards admits that multiple Planned Parenthood affiliates have recently received payments of $45 to $60 'per tissue specimen' from various Tissue Procurement Organizations. Second, Richard admits that abortion procedure 'adjustments to facilitate fetal tissue donations' may occur at Planned Parenthood facilities," he noted.
"We believe these two admissions, of payments for specimens of fetal tissue and changes to abortion procedures in order to get better specimens, constitute prima facie evidence of the three points CMP has raised all along: 1) That Planned Parenthood sells aborted fetal tissue, 2) That Planned Parenthood changes the abortion procedure in order to get saleable tissue, and 3) That there is knowledge and approval of these practices from the top of the organization on down," he added.
Reacting to the video in a statement to The Christian Post on Tuesday, Live Action president Lila Rose said:
"Today, we have the ninth video on Planned Parenthood released as members of Congress wrap up their district visits and return to Washington for a planned vote to defund abortion giant Planned Parenthood. The undercover videos by Center for Medical Progress and the recent letter to Congress by Planned Parenthood further add proof to the overwhelming body of evidence that Planned Parenthood, while collecting tax dollars, broke the law when they harvested and sold baby organs and changed medical procedures to harvest the most profitable organs.
"Planned Parenthood must be defunded immediately, and political leaders should reject and return all campaign donations from this lawless enterprise."
Under federal law, it is legal for a tissue procurement company to reimburse a clinic for time and expenses according to The Hill which noted that Advanced Bioscience Resources is already under investigation from a group of House Republicans who have been trying to determine whether Planned Parenthood has been illegally paying for fetal tissue donations.
"In the twisted world of baby parts trafficking from Planned Parenthood abortion clinics, there are few unbroken rules," wrote Daleiden in a release.
"After the serious admissions in Planned Parenthood's letter to Congress last week, it is imperative for lawmakers and law enforcement to act decisively to determine the full extent of Planned Parenthood and their proxies' lawbreaking, hold them accountable, and stop the taxpayer funding of these barbaric atrocities against humanity," he added.
WATCH THE VIDEO BELOW: