Charlotte's Elevation Church Denies Wrongdoing After Neighbors File Noise Complaint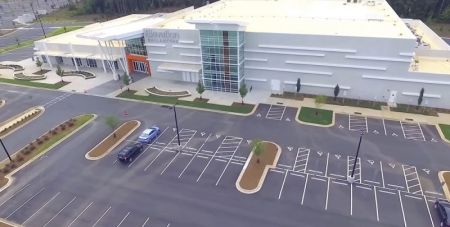 The Ballantyne campus of Elevation Church in Charlotte, North Carolina, has denied wrongdoing after neighbors turned to police and a television news outlet to complain about the amount of noise coming from the Southern Baptist megachurch on a regular basis that they say is disturbing their peaceful lives.
After turning to police and receiving little results, residential neighbors to the 1,600-seat Elevation Ballantyne that opened up in 2016 recently turned to local NBC station WCNC to go public with the their displeasure with the popular church.
Neighbors shared cell phone recordings that show how the worship music and other sounds coming from the church reverberate through their own homes, no matter if they are trying to get work done on a Sunday afternoon or trying to get some sleep at 10 p.m. on a Tuesday.
"We can hear the music; we can hear the yelling and screaming going on when they are having outside activities," neighbor Jennifer Kolb told WCNC, adding that the sound is "loud enough so that when our doors and windows are closed, we can still hear it."
Kolb recently reached out to the police about the noise and received back an email from Captain Christian Wagner. The email stated that the department would communicate with off-duty police officers present at the church to ensure that the noise is kept at a reasonable level.
The email from the captain also stated that the noise issue "generally starts up during this time of year when the weather improves, but there are no leaves on the trees to buffer out the sound." The captain advised Kolb and the other neighbors to continue reporting the problem if the situation does not improve so the department can monitor it.
In an email sent to The Christian Post, Elevation Ballantyne Campus Pastor Jonathan Josephs explained that there are always off-duty police present at Elevation Church events who not only provide safety for the guests but have "helped ensure that any noise generated is reasonable and within the limits of city ordinances."
"On the few occasions when we have received complaints, the police have assured us that we were not violating any noise ordinances," Josephs wrote. "Our intent is to be good members of the communities we serve, and we will continue to cooperate with law enforcement should any issues arise."
According to Charlotte's noise ordinance, noise levels may reach a maximum of 85 decibels between the hours of 8 a.m. to 9 p.m. on Sunday through Thursday and noise must be kept to a maximum of 60 decibels between the hours of 9 p.m. to 2 a.m. on those days.
On Fridays and Saturdays, noise may reach a maximum of 85 decibels during the hours of 8 a.m. and 11 p.m. but must be kept to a maximum of 60 decibels between the hours of 11 p.m. and 2 a.m. on those days.
According to IndustrialNoiseControl.com, 85 decibels is a louder noise than noise produced by a freight train at 50 feet, a diesel truck at 50 feet, a diesel train at 100 feet and a garbage disposal. And it is almost as loud as the sound a food blender makes while in operation in a kitchen.
The website describes 60 decibels as being similar volume to a conversation someone might have at a restaurant or office.
"If a property owner continually violates the ordinance, police may label them a chronic noise producer," a city government fact sheet states. "In unique circumstances (e.g., a business directly abuts residential property), a business may be labeled a chronic noise producer even if it is not exceeding specified decibel limits."
Elevation Church, which is led by Pastor Steven Furtick, has 17 locations, including Florida and Canada. After being founded in 2006, it has been one of the fastest-growing and largest megachurches in the United States.