Charlottesville Clergy Hold Interfaith Service to Mark 1-Year Anniversary of Violent White Supremacist Rally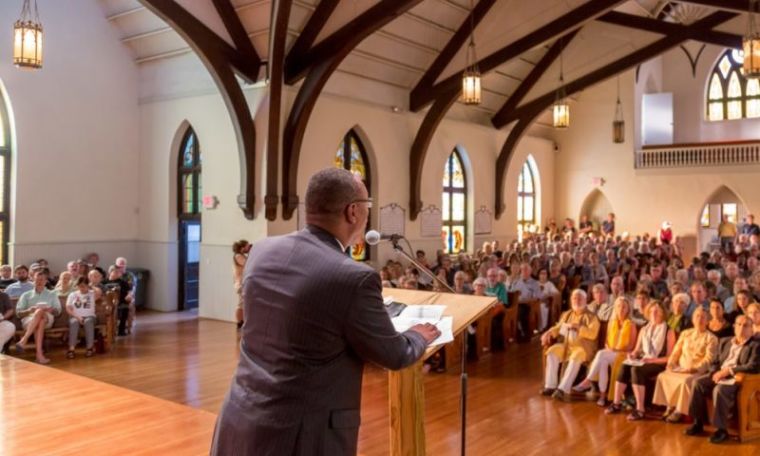 A coalition of Charlottesville, Virginia, area clergy held an interfaith worship service last week in preparation for the one-year anniversary of the violent white supremacist rally held in their city.
Charlottesville Clergy Collective, which was originally formed in response to the 2015 mass shooting at Emanuel African Methodist Episcopal Church in Charleston, South Carolina, held the service last Thursday. More than 250 people attended the service, making it about ten times the size of the second annual "Unite the Right" rally held in Washington, DC on Sunday.
Michael Cheuk, secretary for the Charlottesville Clergy Collective, told The Christian Post in an interview Monday that the theme for the service was "Making Our Way Together: A Service of Gratitude, Repentance, and Hope."
"We hope attendees would come together in gratitude, acknowledge and repent together our history of racism, and make our way together with resolve and hope to work toward a beloved community in Charlottesville," explained Cheuk.
The clergy group also organized 30-minute prayer and meditation gatherings from Aug. 6-10, which took place twice a day at 6 in the morning and 12 noon at Market Street Park.
"To pray or contemplate in community is a very powerful and much different than doing it in isolation or alone and as parts of the Charlottesville community; we are really in this all together," said Annie Marie Smith, a future chaplain and participant in the daily gatherings, to NBC News 29.
On Aug. 12, 2017, a few hundred white supremacists from across the U.S. descended upon Charlottesville to protest the removal of a Robert E. Lee statue in Emancipation Park.
Known as the "Unite the Right" rally, dozens of people were injured in clashes between white supremacist groups, Antifa and various counter-protesters.
The worst incident came when 20-year-old Nazi sympathizer James Alex Fields Jr. allegedly rammed his car into a crowd of counter-protesters, injuring 19 people and killing 32-year-old Heather Heyer.
Earlier this summer, during a hearing held in Charlottesville, Fields pleaded not guilty to the 30 charges brought against him on Aug. 12.
Jason Kessler, the organizer of last year's rally that turned violent, held an anniversary gathering near the White House at Lafayette Square Sunday evening. According to reports, less than two dozen people showed up. Kessler used to be a supporter of former President Barack Obama and an Occupy Wall Street activist. 
The Clergy Collective was not the only religious entity holding events supporting racial unity in response to the white supremacist rally.
On Sunday, the United Methodist Church's Baltimore-Washington Conference organized a "United to Love" event at the National Mall in response to the white supremacist gathering.
"The United to Love Rally is an alternative to the hatred, but it will also be much more as people come together to claim and share God's love, peace and justice," stated the conference on the event website.
"We feel compelled to raise a prophetic voice challenging the climate of distrust and fear, shifting the conversation to our common future."