Chick-fil-A Flash Mob Video Goes Viral, Hits Over 13 Million Views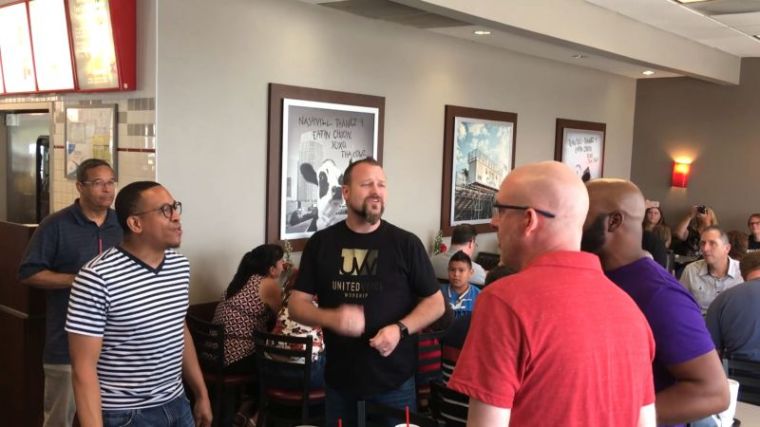 A video of a flash mob performance by 60 professional a capella gospel singers from around the world inside a Chick-fil-A near Nashville, Tennessee, has gone viral with more than 13 million views on Facebook.
The video reached 13 million views early Saturday morning. 
"I was shocked in the first couple of hours when it started to get hundreds of thousands" of views, The Atlanta Journal-Constitution quotes Chris Armstead, worship minister from a church in Marietta near Atlanta, Georgia, who recorded the video, as saying.
Armstead and 60 others were in Nashville for the weeklong Worship Leader Institute, which trains a capella worship ministers in everything from how to organize singers to microphone techniques.
A capella, four-part harmony version of Hezekiah Walker's "Every Praise" that was performed by singers from various countries, including South Africa, Brazil, Australia, Guatemala, the U.K. and Canada, brought customers around the restaurant to their feet and got employees dancing, noted Tennessean.
"This song ... has so much appeal across a lot of cultural context and worship styles," Armstead says, and adds that the Chick-fil-A manager was cool with it.
An annual survey released recently by the American Customer Satisfaction Index pertaining to restaurants revealed that Chick-fil-A has again emerged as the top-rated fast food joint.
Chick-fil-A finished with a score of 87 on ACSI's 100-point scale, placing it well ahead of its competitors, including Panera Bread which was given a score of 81 and Subway, which was the only other fast food chain to break into the 80s.
Along with providing customers with satisfying food, many people have speculated that the chain's adherence to Christian values has enabled it to resonate with diners.
Founder Truett Cathy instilled his values into the company and members of his family have been carrying on his legacy for more than 70 years. That includes keeping in place the company policy of closing stores on Sundays — something put in place by Cathy so that employees could spend the day to rest and worship if they are so inclined.