These Women Love Their Chick-fil-A; Listen to Their Tribute Song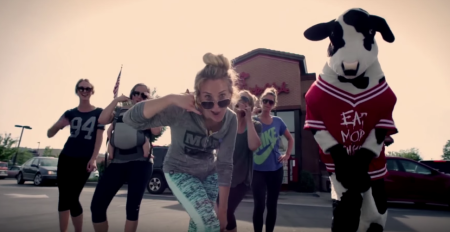 A group of women have decided that it's not enough to just follow the advice of cows and eat more chicken; they must sing about it.
The Texting Yoga Pants, a group of millennial-aged mothers who, apparently, wear yoga pants, posted a video titled "I Wanna Go To Chick Fil A" in August that has accrued over 940,000 views.
With little children in tow, the mothers go to the popular fast-food chicken sandwich chain and enjoy the services provided.
Borrowing the melody of the hit Meghan Trainor song "All About That Bass," one highlight of the video is that of a dance number with a towering Chick-fil-A cow.
After one listen, even your health-conscious vegetarian friends may want to go over to the nearest restaurant and enjoy a chicken sandwich.
Or maybe they'll wonder why you showed them this video in the first place since they have undoubtedly made it clear on countless occasions that they are health-conscious vegetarians. Either way, enjoy!