Chip and Joanna Gaines Forgive Reporter Who Apologized for Questioning Their Priorities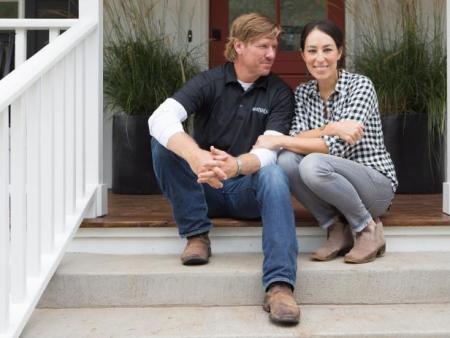 Chip and Joanna Gaines, the home restorers who rose to fame on HGTV's reality series "Fixer Upper," say they've forgiven a writer who once criticized their work ethic and family values. 
Back in April, controversy was stirred when an opinion piece published in USA Today criticized the Gaines for how they were handling their priorities.
Writer Daryl Austin wondered if the couple were really able to put their family first at all times given how many hours they were seemingly pouring into their different business ventures.
Austin said, "There's an important distinction ... that I think their millions of fans and would-be imitators need to remember: Chip and Joanna Gaines did not get where they are by putting their family first."
Speaking as a small-business owner, Austin said at the time that he and his wife were already dealing with a variety of distractions, so he could imagine how many things have to grab the Gaines' attention.
Austin also argued that the Gaines were portraying a kind of reality that was unattainable.
Since then, Austin has experienced being on the receiving end of criticism, with the Gaines' fans and supporters questioning his motives in writing the piece. 
Other writers also came out in defense of the Gaines and expressed their disagreement with some of Austin's assertions.
In an attempt to clarify his position and apologize to the couple, Austin authored a separate piece that was published by Fox News.
While Austin maintains that he did not intend for the original opinion piece to be hurtful, he did admit to putting forth a "flawed argument."
"If our society is ever going to have the conversations we need to be having, judging and shaming one another is a terrible place to begin, especially when there are so many more serious concerns that need addressing," he added. 
However, Austin also said, "I was convinced that the lifestyle they presented to the world was a great recipe for building loads of successful companies, but not necessarily a way to have more time together as a family."
"I wanted to make it clear that — regardless of how they juggle their businesses and family responsibilities at present — building a brand and empire from the ground up required them to sacrifice a lot of time away from their young children in order to get to where they are today," he added.
After reaching out to the Gaines in search of forgiveness, Austin found what he was seeking.
As reported by People.com, a representative for the couple let Austin know that the issue is now "water under the bridge."
For his part, Austin said that receiving forgiveness from the Gaines has bestowed upon him a "sense of closure." 
Austin also said that he has even more respect for them now in the wake of this controversy.
The Gaines even offered Austin a vacation rental for free at one of their homes in Waco, Texas, which he politely turned down because he did not feel "comfortable with them paying for it," Entertainment Weekly reported. 
On July 23, the Gaines announced the birth of their fifth child, a baby boy. 
"And then there were 5. The Gaines crew is now 1 stronger! 10 beautiful toes and 10 beautiful fingers all accounted for, and big momma is doing great! #blessedBeyondBelief," Chip tweeted.
The Gaines shocked fans in September 2017 when they announced that they were canceling "Fixer Upper" after five seasons so they could spend more time with their family.
Along with being successful home renovation gurus and reality TV stars, the Gaines own Magnolia Homes, a remodeling and design business in Waco. They also have a retail shop called Magnolia Market at the Silos (which draws up to 40,000 visitors a week), as well as paint, rug, wallpaper and furniture lines, a real estate company, a quarterly magazine, a luxury vacation rental, and now a restaurant.