Chris Pratt reads Luke's Gospel at Disneyland, reflects on God's love: 'Every one of us is a special creation'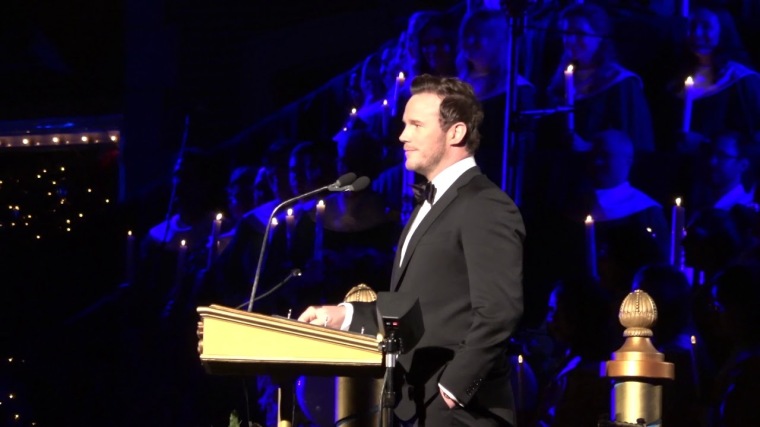 As part of Disneyland's Candlelight processional, Chris Pratt reflected on how fatherhood has reminded him of God's immense love for His children.
The "Guardians of the Galaxy" star, who hosted the annual event, spent some time in between Christmas songs to read from the Gospel of Luke and share a few personal experiences with the audience.
"Being a parent has really changed my life in so many ways, and one of those ways is to understand truly the love that a father can have for a child," Pratt, who has a 6-year-old son with ex-wife Anna Faris, said.
"When I stare at this precious little creation of mine here, and I watch the ways in which he tries to please me, I just feel a love that is so pure, and unending," the actor continued. "The way we love our children, and the more we love our children, the more we will understand the capacity for our Father in Heaven to love us."
Amid applause and cheer, Pratt told the audience: "Each and every one of us is a special creation, and He just marvels in the ways that we could try to please Him. That should give us all a great deal of comfort. I know it does for me."
The "Jurassic World" actor continued: "This holiday season, let us embrace every one of our tomorrows with hope and love. And through this holiday spirit, may we continue to spread peace and goodwill throughout the world."
"Thank you," Pratt concluded, "and Merry Christmas!"
Jack Pratt was born nine weeks premature in August 2012 and spent his first few weeks of life in ICU. Pratt previously shared how the ordeal, while terrifying, ultimately brought him closer to God.
"We were scared for a long time," he said. "We prayed a lot." However, the experience "restored my faith in God, not that it needed to be restored, but it really redefined it. The baby was so beautiful to us, and I look back at the photos of him and it must have been jarring for other people to come in and see him, but to us he was so beautiful and perfect."
He described the boy as a "fighter," adding, "He's so open and there's no fear in him no matter what. He is so charming that my plan is to just let him take care of us as soon as he's old enough."
The well-known actor also frequently uses his platform to discuss his Christian faith and how his beliefs impact his life. While accepting the "2018 Generation Award" at the MTV Awards in June, he shared his "Nine Rules for Life," including: "Learn to pray. It's easy, and it is so good for your soul."
"God is real. God loves you. God wants the best for you. Believe that, I do," he said at the time.
While accepting the "Choice Summer Movie Actor" award for "Jurassic World: Fallen Kingdom" along with his co-star Bryce Dallas Howard in August, he declared: "I'm so thrilled to be here. ... I want to thank God. I always do that when I'm up on a big platform in front of a bunch of young faces. I say, 'I love God!' That's my thing, I love Him — and you should too!"