Christian Colleges: 'We Are Not Match.com'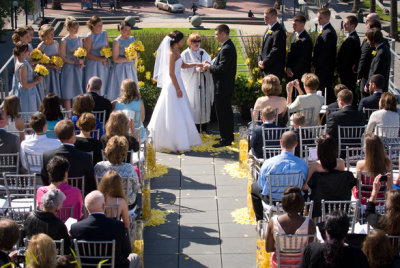 A recent Facebook study found that the top 25 colleges where men and women meet their future spouses are all Christian institutions of higher learning. The institutions claimed that, while many of their students meet their "soul mates" as class mates, their schools are for learning, not romance.
"The perception on the outside looking in is that we are a marriage factory, but it's not because Harding University is trying to be a Match.com kind of place and push marriage on people," Monte Cox, dean of Harding University's College of Bible and Ministry, told The Christian Post on Tuesday. Harding University in Searcy, Ark., ranked second for men finding spouses from the same college, and 16 for women.
Cox dispelled the potential charge that, since the school takes a hardline stance against premarital sex, students use marriage as a license to have sex. "I haven't found that," he said, referring to his private capacity as a premarital counselor with his wife. "I'm sure there have been some couples like that, but most of the couples we've counseled were ready to get married."
"I remember standing up in our chapel service and saying very plainly, no one here would encourage you to get married before you're ready," Cox recounted, explaining his official role as dean. "Harding has no official capacity in the premarital counseling business or in encouraging people to marry."
Stacy Lansdown, admissions assistant at Faith Baptist Bible College and Seminary, echoed Cox in proclaiming that her school is not a dating service, despite the fact that it ranked first for men and fourth for women in the Facebook study.
"We think it is a great thing that so many of our students find their spouses here at Faith," Lansdown wrote CP. "While our purpose is not to facilitate such relationships, they naturally develop because many of our students are here for the same purpose–to pursue God's plan for their lives." Whenever like-minded people come together, potentially life-long relationships can form, she said.
Lansdown listed the many opportunities to interact, which Faith students have, from athletics to mission trips, local church involvement, and campus life. "A natural result from these opportunities is guys and girls developing meaningful relationships that frequently lead to marriage," she added. Lansdown argued that the high rate of students and alumni who marry others from the same college is not a sign of premature marriage but of a good community in higher education.
"A strong, Christ-centered marriage is a wonderful gift, and we are thankful that Faith is a place where students can develop relationships that lead to these types of marriages," Lansdown concluded.
Brigham Young University (BYU) ranked fifth on both the men's list and the women's list, and a representative emphasized the impact of shared faith in the forming of relationships.
"The vast majority of students at Brigham Young University are members of the Church of Jesus Christ of Latter-day Saints," and they share many things, Todd Hollingshead, BYU's media relations manager, wrote CP. "Their shared faith certainly plays a role in the fact that many of our students eventually marry other BYU students."
Even the BYU representative emphasized that the university is not pressuring students to marry. He called "the decision of whom to marry" a "very personal choice," but added that the school is "happy to see that so many of our students find their eventual spouse among our university student body."
At BYU, however, a higher percentage may also meet their immediate spouse. Hollingshead reported that about one-fifth of BYU undergraduates are married at any given time.
In contrast to BYU, Harding University students are more likely to get married later, Cox argued. While he acknowledged that he didn't know for certain. "The impression is that, like national trends, our students get married at a later period than I did when I was a student here."