Christian Couple Who Vowed to Divorce If Australia Legalized Gay Marriage Respond to Pressure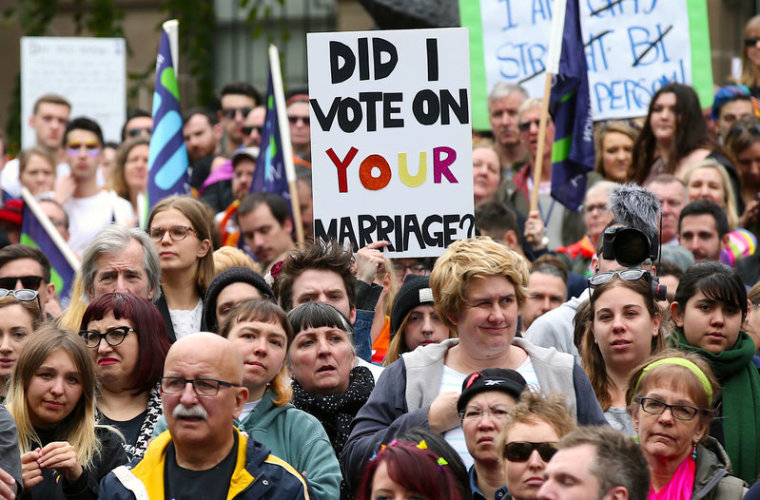 A Christian couple in Australia who once said that they would be looking for a divorce, though not of the traditional kind, if the country legalized gay marriage, have responded to questions by activists by stating that they will not be separating from each other.
Sir Peter Cosgrove, the governor-general of Australia, signed gay marriage into law on Friday, which also means that same-sex couples who have been married overseas will have their unions automatically recognized under the country's new law.
Nick and Sarah Jensen, the Christian couple who in June 2015 said that they might be forced into a form of divorce if the law was changed, explained their stance in a statement to news.com.au: "My previous public comments regarding civil divorce never envisaged me separating from my wife, but rather our marriage from the state," Nick Jensen said.
"The legislation currently makes it untenable for us to do this under the law. The point we were highlighting and that still stands, however, is the fact that a redefinition of marriage changes the agreement under which we were originally married," he added.
"We will be making no further comment."
Jensen told Canberra City News back in 2015 that he and his wife celebrated their 10th wedding anniversary at the time, and that the "decision to divorce is not one we've taken lightly."
He also clarified that they are not talking about a "traditional divorce."
"You see, after our divorce, we'll continue to live together, hopefully for another 50 years. And, God willing, we'll have more children. We'll also continue to refer to each other as 'husband' and 'wife' and consider ourselves married by the Church and before God," the husband said.
Jensen admitted that it will be complicated trying to explain their marital status if Australia legalizes gay marriage, but said that their intention is to highlight God's intent for marriage solely between one man and one woman.
"My wife and I, as a matter of conscience, refuse to recognize the government's regulation of marriage if its definition includes the solemnization of same sex couples," he said back then.
"When we signed that official-looking marriage certificate 10 years ago at Tuggeranong Baptist Church, we understood that the state was endorsing marriage, as currently defined, as the fundamental social institution — with all that this implied," he continued.
"But if this is no longer the case, then we no longer wish to be associated with this new definition. Marriage is sacred and what is truly 'marriage' will only ever be what it has always been."
Still, LGBT supporters online have insisted on holding the couple true to the traditional understanding of divorce, and have created Facebook events titled "Celebrating Nick and Sarah Jensen's divorce."
Lawyer Michael Tiyce even offered to help the couple go through with a legal divorce following the announcement of the same-sex marriage national vote results last month, where the majority of Australians backed gay marriage.
"My firm does quite a bit of pro bono work in family law each year in the gay, lesbian and trans community. I thought offering assistance to Nick and Sarah would be an excellent way of reaching out across communities with my family law expertise, because quite simply they are going to need it," Tiyce said at the time.
Jensen insisted back in 2015 that he and his wife are not bigoted or hateful toward gay couples.
"The truth is, 'marriage' is simply too important. It is a sacred institution, ordained by God. It has always been understood to be that exclusive relationship where one man and one woman become 'one flesh.' Any attempt to change the definition of marriage by law is not something in which we are able to partake," he wrote at the time.
Major churches have been reacting to Australia's embrace of gay marriage by declaring that they won't be changing their support for traditional marriage.
Hillsong Church Senior Pastor Brian Houston said last month that the "work of our church will continue as usual as it does in many parts of the world where same sex marriage is legal."
"As we move forward as a nation and put what has been at times a divisive debate behind us, my prayer is that we replace anger, criticism, hatred and intolerance with love, understanding, acceptance and kindness," he added.