Christian State Trooper Fired for Witnessing on Job Says He Saw Many Miracles Through Work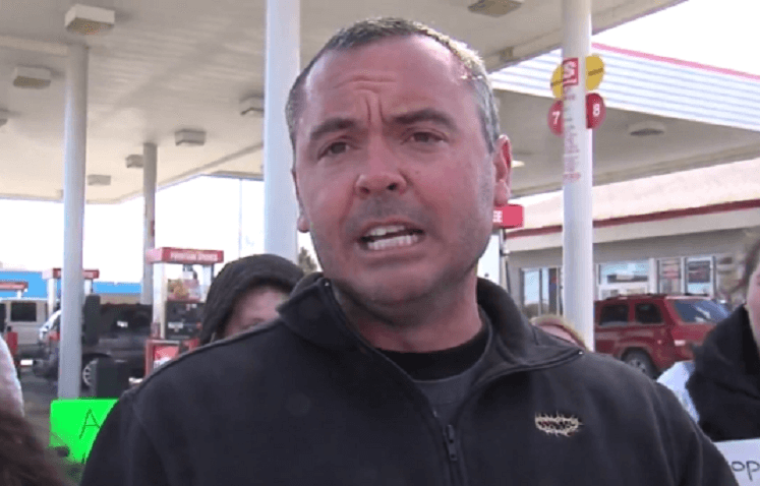 The Indiana state police trooper who was fired last week amid complaints that he was preaching about Jesus during traffic stops, said he saw many miracles happen before he got fired and intends to keep spreading the Word of God.
Just two days after his firing, the former state trooper Brian Hamilton, 40, who said God changed his life when he got saved three years ago, was busy preaching to dozens of people on a street corner in Connersville, according to ABC 6.
"Jesus says I am the way, the truth, and the life, no man cometh to the Father but by Me. And When I got saved three years ago, it changed my life," said Hamilton, who is confident "God will provide."
"I know what you're all doing here and I can't really comment on the allegations of the state police … but I always said after I got saved, I said I work for the state but ultimately, I'm a soldier for Jesus Christ. God has used that job in the last three years what it was supposed to be meant for, and that was to spread the Word to tell people when they're hurting, the truth. Government programs cannot touch anybody, it's the Word of God that can change people," he added.
Hamilton's firing came after a two-month internal investigation into a complaint that he questioned a resident's religious affiliation in January, according to the Indy Star.
It also came two days after the American Civil Liberties Union of Indiana filed a federal lawsuit on behalf of a woman, Wendy Pyle, who accused the former trooper of asking her if "she had been saved," after pulling her over in Fayette County in January. Hamilton allegedly told the woman about his church and gave her directions to it.
"Ms. Pyle was extremely uncomfortable with these questions," the lawsuit said. "In order to hopefully end these inquiries Ms. Pyle indicated that she did attend a church and that she was saved."
Hamilton, according to the Indy Star, had also been sued before and warned to stop proselytizing. In 2014 the ACLU filed a similar lawsuit on behalf of a woman named Ellen Bogan, who accused Hamilton of stopping her that August for an alleged traffic violation in Union County. After issuing her a warning ticket Hamilton reportedly asked her if she had a home church and whether she accepted Jesus Christ as her Savior.
On Saturday, however, Hamilton appeared more concerned about America's apparent spiritual slide than the loss of his job.
"We live in a great country but it's on its way down. It's gonna go down. The politicians say it's gonna get better but it ain't gonna get better. The Lord Jesus Christ is what you need, is the answer," he said.
When asked about the loss of his job, he said: "It cost Christ everything. It cost Christ his son. It's a free gift for us but we are bought with a price. … I made a decision to follow Christ. And I always said, when man's law goes against God's law it's wrong and we're going to stand on the name of Jesus."
He further explained that he uses the transformation he experienced through Christ three years ago to be a better officer and felt compelled by God to share it with others, and he saw many miracles because of his obedience.
"God used that job and it was meant to be how it was supposed to be. Not to come out here and beat up the public. Even with your mouth. … I had a hard heart, I was not saved. I was a child of the devil. So when I was out here in the streets I would treat people with disrespect … and just looked down on them. But when Christ came into my heart [it] changed me. It takes that heart and it softens it up," he said.
"I've seen more miracles in the last three years than the past 12 years or 11 years as a state trooper. God has used that to further the Kingdom, especially out in this neighborhood that we're in that you see people coming to Christ and it changed their life. So many miracles. There's tons of them that I've witnessed," said Hamilton, who was a 14-year veteran with the state police at the time of his firing.
As for his future plans, Hamilton said: "I'd rather follow Jesus. I'm gonna follow what God has for me to do. It's his plan, He's already ordered all my steps and I just gotta be obedient."