Christian Leaders Respond to Trump Rally Violence: 'Culturally Unpopular Gospel of Christ' Could Be Threatened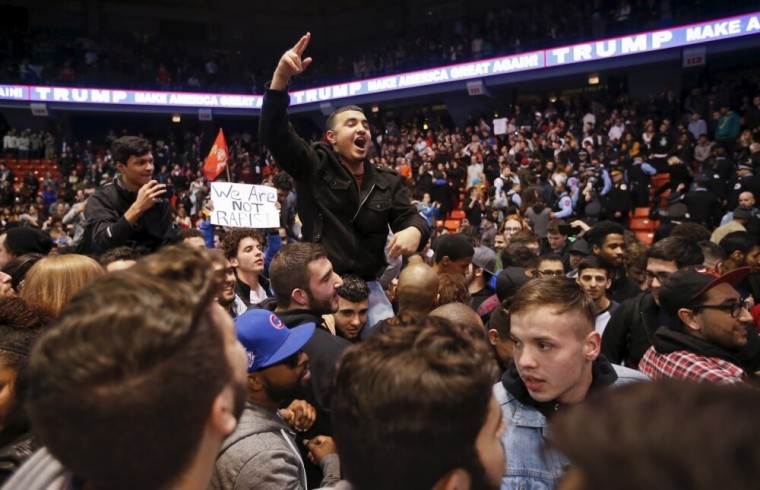 A number of Christian pastors have reacted to the violent protests seen at Donald Trump's Chicago rally last week, with some stating that Christians should oppose free speech violations in all forms, and others warning that one day preaching about Jesus Christ could be threatened too.
"The idea that a mass of people can shut down free speech and subsequently silence free expression, runs counter to our God given constitutional rights," Rev. Samuel Rodriguez, the president of the National Hispanic Christian Leadership Conference, told The Christian Post in response to the organized protests and unrest that led to Trump canceling his Friday rally at the University of Illinois at Chicago.
"While Mr. Trump's rhetorical demagoguery requires a civil yet poignant response, a chaotic and anarchist type strategy as exhibited in Chicago can one day threaten my right to preach the culturally unpopular Gospel of Jesus Christ."
As for how believers should respond, Rodriguez said that while Christians must never engage in rhetorical or physical violence, they carry "the biblical mandate to speak truth with love while leading the way in reconciling our nation."
"We must repudiate all vestiges of intolerance from the right and the left all the while leading people to the prophetic center; Christ," he added.
"In other words, we must condemn rhetorical demagoguery and the infringement of our God endowed constitutional rights to free speech, expression and religion."
Advocacy groups such as MoveOn.org have taken credit for supporting the protesters, made up mostly of left-wing activist and union groups opposed to Trump's rhetoric on a number of issues, though they have denied causing the outbreaks of violence.
A political blame game has also developed, with Trump pointing the finger at Democratic rival Bernie Sanders for organizing protesters, while Sanders has fired back and placed the blame on what he said is Trump's divisive speech.
Bishop E.W. Jackson, founder of Exodus Faith Ministries, a nondenominational ministry headquartered in Chesapeake, Virginia, said Christians need to condemn the violence at Trump's rallies, but argued that blame for the clashes cannot be laid at the feet of the billionaire businessman.
"This is a frequent tactic of leftist agitators who have no respect for the First Amendment and freedom of speech. This is the same reaction we see on college campuses when a speaker is scheduled who has conservative ideas," Bishop E.W. Jackson pointed out.
"On the other hand, every leader has a responsibility to discourage violence and avoid having supporters misinterpret the candidate's intentions. That said, even when a speaker says things that are incendiary, a person's reactions are his or her own responsibility. Americans should be committed to the idea of debating issues and substance rather than hating and wanting to do harm to others," he added.
Bishop Harry Jackson Jr., who is the senior pastor of Hope Christian Church in Baltimore, Maryland, said Christians must pray for all remaining candidates in the election race, but must not draw back from attending rallies in the future.
"If we allow ourselves to be scared away from participating in this part of the democratic process, riot organizers will actually win. Therefore, we must keep speaking out," the pastor said.
"Secondly, Donald Trump should continue to denounce the use of violence, from here on. His leadership team must help shape the attitude and outlook of his followers. He should go so far as to make sure that these events have a positive welcoming tone for everyone. (In the spirit of Romans 12 he must guide his people to move in the opposite spirit," he continued.
"Bringing order to his future rallies could very well demonstrate his ability to unite a divided party and a divided nation."
He reflected that for the past 18 months, America has been "experiencing a great deal of fear, anger, and mistrust for ideological candidates and parties," pointing to the numerous riots, police shootings, demonstrations about race and other protests.
He said that both the Black Lives Matter Movement and the March for Life have made it fashionable to march and demonstrate again, but there have also been violent incidents, such as the burning down of a CVS store in downtown Baltimore following riots concerning the death of Freddie Gray, a 25-year-old black man who died after being injured while in police custody.
The Hope Christian Church senior pastor suggested that America is returning to the national atmosphere of the 1960s and 1970s, and noted that the Chicago Trump rally was an opportunity for people who were angry and mobilized to lash out.
"Finally, let's remember that paid agitators were involved in the Chicago rally. MoveOn.org and George Soros were mentioned prominently. This was an underhanded tactic committed by people that fear the entire field of conservative candidates," he added.
Bishop Harry Jackson warned that if political rivals condone the type of violence seen at Trump's rallies, they may see such behavior spread to other candidate's events a well.
He also said that the Republican field is failing to realize that blaming Trump reinforces the idea that "a large number of Republicans are ignorant, racists who are also evangelicals," and warned that conservatives and Republicans "are being defined as being angry, competitive, judgmental, and racist."
Other notable evangelical voices, such as Dr. Richard Land, president of the Southern Evangelical Seminary, who is also the executive editor of The Christian Post, have also said that the violence at Trump's events threatens free speech in America, and reminded Christians that without free speech, religious freedom is also endangered.