Dreams Do Come True! Christian Post Highlighted by Distinguished Babylon Bee Publication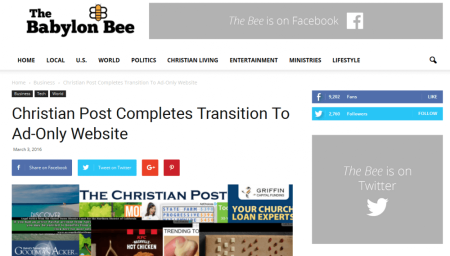 After years of toil and hard work, constantly being told they were never good enough, The Christian Post has finally been recognized by one of the most distinguished publications created within the last few weeks.
The Babylon Bee recently gave exposure to CP and its unprecedented pioneering endeavor to become an ad-only website.
The article quoted CP CEO Will Anderson, who championed the transition to ad-only website as "serving up exactly what our customers have come to expect from us: ads, ads, and more ads, without apology, subtlety, or any tact whatsoever."
One spokeswoman for CP, tears welling in her eyes while an orchestra played, explained with immense joy how important this recognition from the Bee really was.
"This is better than winning a Pulitzer," she said, while carefully adjusting her tiara. "I would love to thank all the little people who made this possible. This is so going on Facebook!"
Recognition from the BB is one of the most sought after honors for any news and information website, Christian or secular.
"It shows that you have finally made it," noted one Internet analyst. "And when I mean made it, I mean made it made it, not just made it. But made it in a real made it way. You get me?"
Meanwhile other publications are desperately seeking to include more ads, popup videos, and spam within their pages in order to get BB's attention.
World Nut Daily, which is headed by Jose Nearah, has already purged most of their reporters and replaced them with YouTube commercials.
"Obama is a foreign-born Communist Muslim who is poisoning our drinking water in order to sap and weaken our precious bodily fluids in order to give Iran a nuclear weapon in order to help aliens take over America," explained Nearah.
"If replacing the majority of our writers with commercials prevents a man whose very middle name proves he's a terrorist from ending America, then count me in. Oh and by the way the moon landing was staged."
WARNING: THE ARTICLE IS A WORK OF SATIRE. PLEASE SHARE RESPONSIBLY. (continue reading below)
To celebrate the paradigm-shifting recognition, starting next month Christian Post is planning to run articles during its ads.
"I know it's not the 'in thing' to do, but somehow we have to pay the bills," explained an unnamed source within the DC office.
"It is possible that our readers may even come to enjoy the brief news bits we will pepper in with the main course of server-crashing videos and pop-ups they have come to adore."
While many are content with the response, others fear that this experiment in including more articles with the ads may eventually lead to a reduction in pop-ups and video ads on web pages.