The Christian Post's Top 10 News Stories of 2016
1. Trump and Evangelicals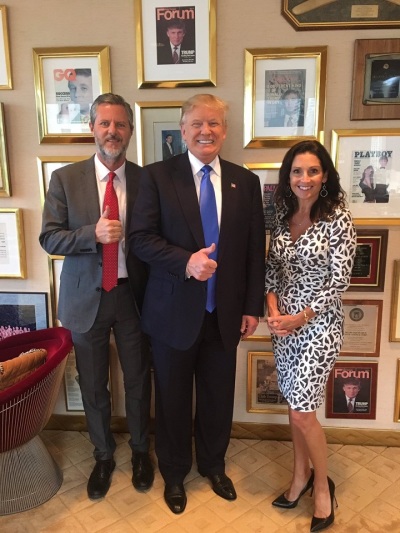 On his path to winning the presidency, Donald Trump revealed fissures and diversity among American evangelicals.
Trump and evangelicals was, by far, the most covered topic for The Christian Post in 2016, making it the obvious choice for our No. 1 story of the year.
During the Republican nomination contest, Trump's candidacy revealed a split between church-going evangelicals and non-church-going evangelicals, dubbed "EINO's," or evangelicals in name only, and between white and non-white evangelicals.
During the nomination contest, most orthodox evangelical leaders and church-going evangelicals supported either Sen. Ted Cruz, R-Texas, or Sen. Marco Rubio, R-Fla., while Trump did well among prosperity gospel evangelical leaders and those who identified as evangelical or "born again" but did not attend church services often. Some of Trump's Pentecostal and charismatic supporters even prophesied that Trump would become president. 
Trump had two prominent evangelical leaders supporting him, First Dallas Church Pastor Robert Jeffress and Liberty University President Jerry Falwell Jr., but the vast majority who spoke out (excluding the prosperity gospel types) advised against backing Trump.
On Feb. 29, the editors of CP penned an editorial warning that "Donald Trump Is a Scam. Evangelical Voters Should Back Away." It was the first time CP had taken a position on a political candidate.
"We are making an exception because Trump is exceptionally bad and claims to speak for and represent the interests of evangelicals," they wrote.
After Trump had secured the Republican nomination, calculations changed. A vote for Trump was then viewed by most evangelicals in relation to the alternative, Democratic nominee Hillary Clinton.
While some evangelicals were ethusiastic Trump supporters from the start, other evangelicals were "#nevertrump," opposing him throughout the election, and still others were Clinton supporters, most evangelicals fell into the category of reluctant Trump supporters once he became the Republican nominee.
Trump's relationship to evangelicals also overlapped with issues of race and racism in unpredictable ways. White evangelicals were more likely to support Trump and non-white evangelicals appeared more likely to oppose Trump. One of the most cited concerns of #nevertrump evangelicals was Trump's willingness to use racist and anti-immigrant sentiment to mobilize voters. At the same time, some of Trump's strongest evangelical supporters were black pastors. Trump continued to meet with these pastors throughout the year and some of them spoke at his convention.  
A June 16–19 CNN poll found white self-identified-evangelical registered Republicans were evenly split, 50–50, between those who wanted the Republican Party to pick someone else and those willing to stick with Trump as the nominee.
A month before the election, Barna Group, which uses a more narrow definition of evangelical and includes non-whites, found that four out of 10 evangelicals at the time refused to vote for either Trump or Clinton. Of those, one in eight had decided to cast a protest vote for a third-party or independent candidate and three out of 10 were undecided on what they would do on Election Day.
In an effort to solidify his evangelical support, former presidential candidate Ben Carson organized a June 21 private meeting between Trump and over 900 evangelical leaders.
Some evangelical leaders warned against attending. Michael Farris, chancellor of Patrick Henry College and chairman of the Home School Legal Defense Association, penned an op-ed published in The Christian Post arguing that the meeting "marks the end of the Christian Right."
At the meeting Trump promised that as president he would work to end the Johnson Amendment of 1954, which bans churches from endorsing political candidates and other types of political activities, and reiterated a promise to appoint pro-life justices.
After the meeting, reactions suggested that Trump had "moved the needle" with the evangelicals in attendance, but questions remained. Based upon his answer to a question about whether Christian wedding vendors should be required to serve a same-sex wedding ceremony, some were skeptical of his devotion to religious freedom.
Nonetheless, Trump correctly identified religious freedom as a primary concern of evangelicals (CP's No. 1 news story in both 2014 and 2015) and spoke about it often. 
Trump would continue to reach out to evangelicals in stump speeches and his Republican National Convention speech in July. At an August event with pastors in Orlando, Florida, Trump claimed that if he's elected, pastors will have "great power" and higher church attendance. Trump also named an evangelical, Indiana Gov. Mike Pence, as his running mate, which helped to reassure many evangelicals.
Issues of Trump's personal faith also continued to pop up in 2016. Trump says he is an Presbyterian Christian, but has also said he has never asked for forgiveness, which is necessary to become a Christian. Additionally, He claims his favorite book is the Bible and no one has read the Bible more than him. 
At a January Liberty University speech, Trump quoted 2 Corinthians 3:17, but said "two Corinthians" instead of "second Corinthians." Later he blamed Family Research Council President Tony Perkins for writing it down for him as "2 Corinthians." 
Trump's gaffe "shows that he's not familiar with the Bible," Perkins told CNN.  
In June, James Dobson said he had heard that Pastor Paula White had led Trump to accepting Christ, and later said Trump was "a baby Christian who doesn't have a clue about how believers think ...."
In an exclusive July interview with CP, White would not confirm or deny whether she personally led Trump to Christ, but said, "I can tell you with confidence that I have heard Mr. Trump verbally acknowledge his faith in Jesus Christ for the forgiveness of his sins through prayer, and I absolutely believe he is a Christian who is growing like the rest of us. I know that from many personal conversations."
About a month before the election there were several indications that evangelicals who were reluctant to vote for Trump had decided to vote for him. Gallup's daily tracking poll showed that the religiosity gap (the highly religious were less likely to vote for Trump than the non-religious) had closed. A late October PRRI poll found a dramatic increase in the number of white evangelicals since 2011 who said that elected officials who commit immoral acts in their personal life can behave ethically and fulfill their public duties, from 30 to 72 percent. And in the final debate, Clinton demonstrated her pro-abortion extremism, defending the right to kill a baby in the womb on the day of its birth. 
On Election Day, evangelicals would play a role in helping Trump win, but not in the way many news organizations were reporting.
Exit polls showed 81 percent of evangelicals voted for Trump. But, these were self-identified white evangelicals. Digging deeper, Barna discovered that Trump got slightly less support than Mitt Romney got among evangelicals in 2012. But where Trump excelled, did much better than Romney, was among the "notional evangelicals," or EINO's. So, one of the ways Trump was able to win was by holding onto support among the devout evangelicals and to improve his support among those who identify as evangelical but don't hold evangelical beliefs.
After winning the election, Trump's uneven relations with evangelicals continued. He backed off his implied support for overturning the Supreme Court's gay marriage decision, and while he reiterated his promise to appoint only pro-life justices, he implied an unwillingness to go much further in advancing a pro-life agenda. 
Trump also both reassured and re-alarmed conservative evangelicals with some of his cabinet picks. They tended to like his choices for Education (Betsy DeVos), HUD (Ben Carson), Energy (Rick Perry), HHS (Tom Price), Attorney General (Jeff Sessions), and Defense (James Mattis); but for the most important cabinet post, secretary of state, Trump picked ExxonMobile CEO Rex Tillerson, who led the charge to get the Boy Scouts of America to allow gay scout leaders and led his company to donate to Planned Parenthood.
Napp Nazworth contributed to this article.