Christian Research Expert Has Fun with 'Church Sign of the Week'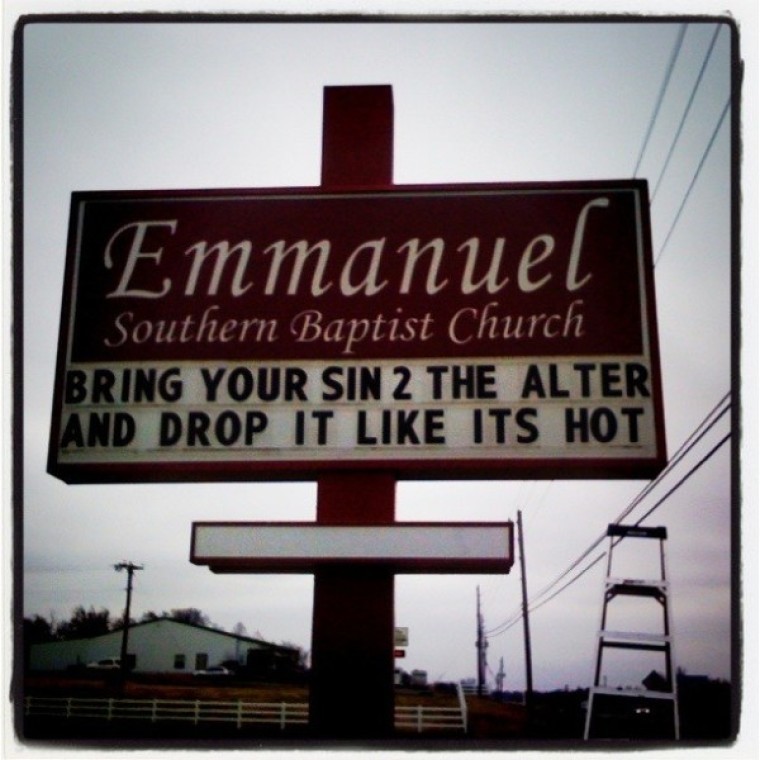 Sin, forgiveness, redemption, and a plethora of topics on Christianity are common fare for blog posts from one of the leading voices among evangelicals, Ed Stetzer. But sometimes, Stetzer just wants to cut loose.
So, on Fridays for the last couple of months, Stetzer has posted funny, unusual, and sometimes controversial photos of church marquee signs in the United States that his tweeps (friends on Twitter) have shared with him.
Stetzer, who is president of LifeWay Research and a visiting professor of research and missiology at two universities, is calling the regular feature, Church Sign of the Week. He says the weekly posts are some of the most forwarded and re-tweeted (re-posted on Twitter) content he's got going.
"I would have to say my favorite one so far is the Snoop Dogg one I posted last week," Stetzer told The Christian Post.
The sign in front of the Emmanuel Southern Baptist Church states: "BRING YOUR SIN 2 THE ALTER AND DROP IT LIKE ITS HOT"
"Two misspellings, Snoop Dogg, and a Baptist Church. You can't go wrong with that," Stetzer said.
He began doing the church signs feature in his blog, EdStetzer.com, when he realized there were "just too many funny signs out there."
"I saw a sign that someone posted a link to on Twitter. People started 'handing' me some and I said 'okay, if you will send them to me, I will share them as a weekly feature in the blog,'" he said.
Stetzer said that inside jokes don't bode well for church signs.
"I think the purpose of a church sign is to tell people in the community what's going on. I think that they need to be appealing and helpful," he said. "It's not the place to put your whole theology or your pet peeve."
Because of its popularity, Stetzer plans on keeping the feature on his blog. He is asking his tweeps to send links to photos of the church signs to him through Twitter.
"A church sign is kind of an old-school tweet. It's like 140-characters typically," he added. "It should attract and point people in the right direction."
Stetzer is a contributing editor for Christianity Today, a columnist for Outreach Magazine and Catalyst Monthly, and serves on the advisory council of Sermon Central and Christianity Today's Building Church Leaders. He is visiting professor of research and missiology at Trinity Evangelical Divinity School in Deerfield, Ill., and visiting research professor at Southeastern Baptist Theological Seminary in Louisville, Ky.