Christian Rocker, 10-Year Mars Hill Member Says Mark Driscoll Resignation Is 'Good News'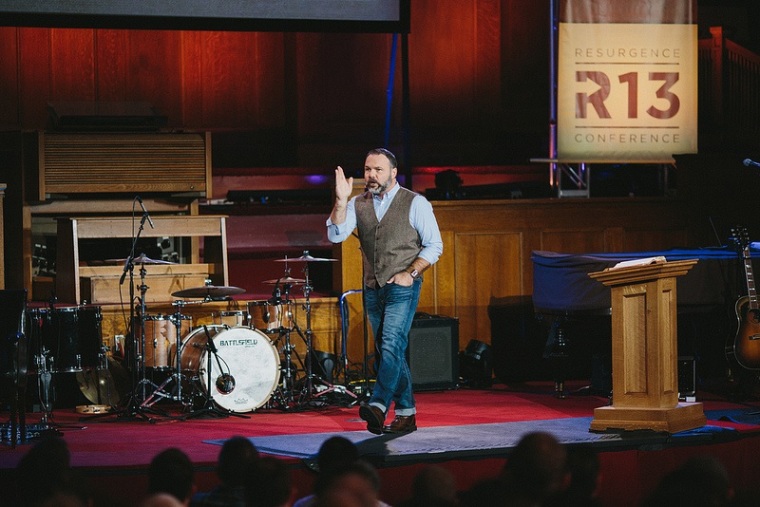 Matt Carter, a former member of Mars Hill Church and lead guitarist in the Christian rock band Emery, recently spoke out about the resignation of his former pastor Mark Driscoll and called the move a "good thing."
The rocker took to his BadChristian blog in a post titled "Mark Driscoll Has Resigned From Mars Hill, and Other Good News" to address Driscoll's decision to resign from his position at the church which Carter attended and served at for 10 years.
Although he starts the blog by expressing his appreciation for Driscoll's leadership skills and ministry strategies, he goes on to illustrate why he believes the decision was smart for both the church and his former mentor and also talks about the reason why he left the church a few years back.
He admitted to loving and admiring Driscoll as a leader, but detailed where his leadership took a turn for the worse. He believes Driscoll made Mars Hill about his "name, reputation, and the proprietary ownership and growth" of the church.
"I'll not go into my opinion or document all the things he did wrong, except to say that Mark blew it. It really frustrated me that he messed up what we had going because it was awesome," wrote Carter on his blog. "He made the classic mistakes associated with power, pride and personal aspirations, and a lot of people and the church were directly hit as a result. But I can hardly blame him. I'd have done the same or worse in his shoes. All I can say is, except for all the really bad stuff he did wrong, I think he did everything right."
Carter did not believe Driscoll would ever resign, but when he heard the news earlier this week, he disagreed with some on social media who thought it was sad news and was actually happy for the church and his former pastor.
"So upon seeing that he resigned, I was glad because I am certain it will be best for the church itself. This may be the first sign of real repentance for Mark; putting others ahead of himself," he continued. "But then again it may be a very strategic positioning – some of the assertions and self-covering language in his resignation letter point that way."
Carter hopes this could be a time of growth for Driscoll where he can regain his focus on Jesus Christ.
"So if Mark Driscoll has to be smashed to bits in order to see Jesus clearly, then I call that progress. That is what we believe, right? That Jesus is the one who pays for our sins, not us? That people are flawed and fail, and Jesus and the Church succeed anyway, and to even greater glory?" wrote Carter.
Driscoll made headlines earlier this week when he publicly released his resignation letter from Mars Hill, a church he founded in Seattle, Washington, in 1996 and has served as lead pastor since then.
His decision comes shortly after a letter from some Mars Hill Church elders was issued asking Driscoll to step down from leadership. These elders were later fired. That letter was preceded by a dismissal and plea from members of the Acts 29 church planting network he helped found.
Driscoll grew a small Bible study to a 13,000-member campus with 15 other locations in five states. Mars Hill was recognized as the third fastest growing and 28th largest church in the country by Outreach magazine in 2012.
His decision to resign saddened many throughout the social media world.
Driscoll expressed his love for the Mars Hill church members in his letter.
"It would be my hope to convey to the wonderful members of the Mars Hill family how deeply my family and I love them, thank them, and point them to their Senior Pastor Jesus Christ who has always been only good to us," he wrote.