Christian Venture Capitalist Defies Sex Scandal With God's Calling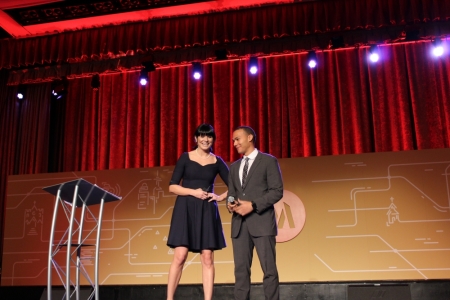 NEW YORK — Six years ago when she was still named Catherine Rohr, Catherine Hoke, 38, was an object of shame and she wanted to die.
The Christian founder of the nationally acclaimed Prison Entrepreneurship Program had found herself deep in the throes of a sex scandal that collided with everything she was supposed to believe and she just wanted to end it all.
"I hated my guts. I tried to kill myself. I was covered in the thickest wall of shame in my life. I could not even believe it," said Hoke, after delving uncomfortably into her past to tell the mostly Christian audience gazing at her svelte frame about what she had done.
Inside the Grand Ballroom at the Hilton Midtown Hotel in Manhattan where the Movement Day 2015 conference was well underway on Thursday, Hoke had inspired the audience with the success of the PEP program.
An Inc report highlights that success in more detail. When she was 25, while she was still Mrs. Rohr, Hoke found God and she began attending church in California's Bay Area with her then husband Steve, a lawyer. She was working as an associate at Summit Partners, a venture capital firm in Palo Alto.
A few years later she moved to New York City after landing a job with private equity firm American Securities Capital Partners. After traveling to a number of prisons in Texas as a part of a Christian outreach program, Hoke got the idea for PEP and in 2004 she launched the organization to teach inmates basic business skills.
"I realized so many gang leaders and drug dealers shared a lot of common traits with successful executives and CEOs. And I wondered if their soul was transformed, if they were equipped to go legit. … So a few months later I jumped ship from my New York private equity job, I moved out to Texas and I launched what became known as Prison Entrepreneurship Program. And it's still going on in Texas today now almost 12 years later," she said proudly.
Hoke's work changed a lot of lives and helped give a lot of ex-cons a sustainable second shot at life.
She was convinced this is what God had called her to do and after months of operating the program remotely she and her husband moved to Texas to focus on the program full time. The program was so successful she received several honors for public service, including awards from then Texas Gov. Rick Perry and President George W. Bush, according to Inc.
Then everything came crashing down in 2009.