Christian Woman Says She's 'Sorry' but Had to Destroy Satanic Display Next to Nativity Scene at Florida Capitol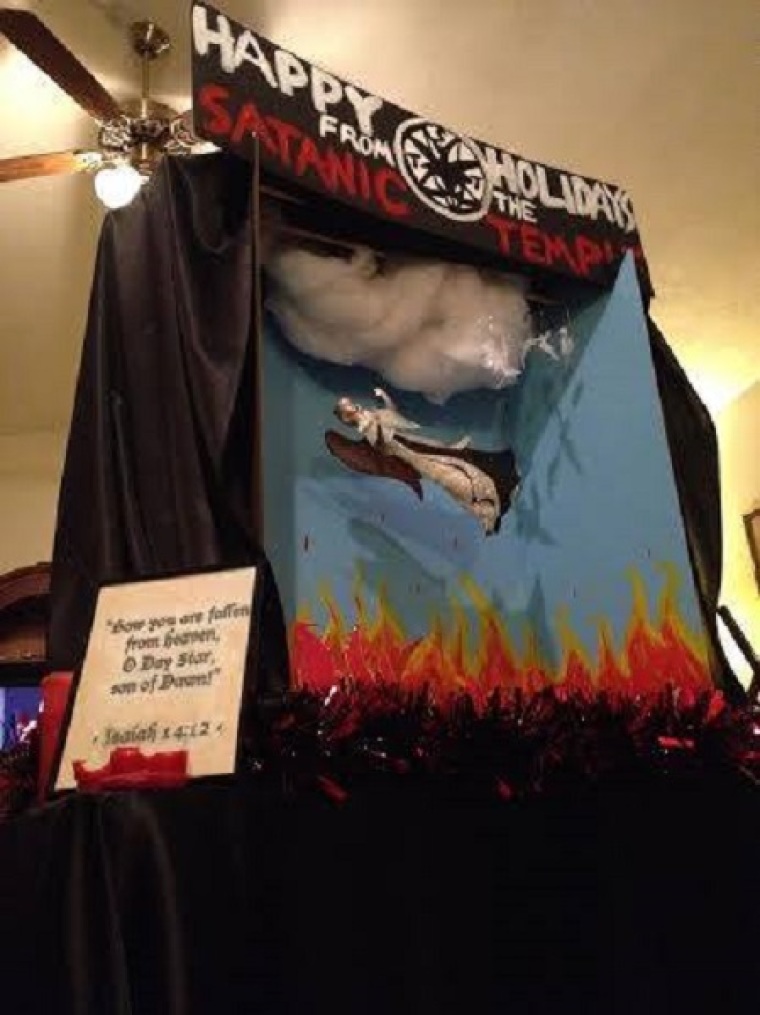 The woman responsible for vandalizing a satanic organization's display featured inside Florida's capitol during the Christmas season has apologized for ripping the piece apart, but says she had to take it down because seeing it next to the nativity was "not right."
Susan Hemeryck, 54, who damaged the Satanic Temple's display on Tuesday "... was wearing a 'Catholic Warrior' T-shirt at the time of her arrest, [and] was charged with criminal mischief and released without bail," according to UPI.com.
"Hemeryck … told a pair of Florida Department of Law Enforcement Capitol Police officers she was 'sorry and had to take down the satanic display' about 11:30 a.m. Tuesday because it was 'not right.'"
The Florida Capitol has public space where various groups can put forth sectarian displays. During the Christmas season, a traditional manger scene is often present.
Last year, the New York-based Satanic Temple requested to have a display placed next to the manger and an atheist one honoring "The Church of the Flying Spaghetti Monster."
The display was decorated as the pits of hell, with an angel falling into the fires. Prominently included was the statement "Happy Holidays from the Satanic Temple."
Officials, however, rejected the proposed display, arguing that it did not meet the standards for such displays as it was "grossly offensive."
The Temple received legal support from the Madison, Wisconsin-based Freedom From Religion Foundation and the Washington, D.C.-based Americans United for Separation of Church and State.
During the beginning of this year's Christmas season, the Satanic Temple was granted its request to have the fallen angel kiosk display included.
Although we are pleased that the state has finally agreed to allow the Satanic Temple's display, our clients should not have been forced to find legal counsel and plan a lawsuit just to get access to an open forum," stated Americans United Senior Litigation Counsel Gregory M. Lipper.
"The state can't give itself the authority to decide whether certain religious messages are 'offensive' — it needs to allow everyone's speech or no one's speech."
In response to the damage inflicted upon the Temple's kiosk display, Americans United released a statement calling the incident an "act of mindless vandalism."
"It's important to remember that free speech in an open forum is for all groups, even those whose message some deem controversial or unpopular," stated Americans United. "Our attorneys fought hard for our clients to win the right to display their diorama in the Capitol rotunda, and we don't intend to buckle under to this type of senseless destruction."