Over 100 Christians Protest Red 'Lucifer' Statue in Greece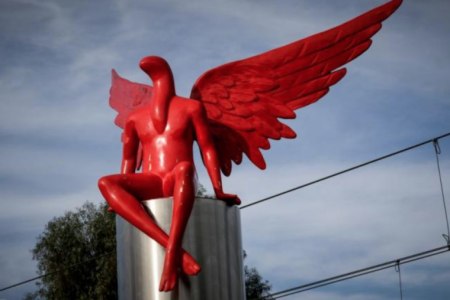 Over 100 Christian residents led by their priest in Athens marched to the site of a controversial sculpture, which many think depicts Lucifer, and demanded its removal.
The protesters held Greek flags, icons and sang hymns where the sculpture Phylax stands, according to Greek Reporter.
The sculpture, an image of a red naked man with wings, made by artist Kostis Georgiou, was installed near the Palaio Faliro marina in Trokadero, south of Athens, last month, according to Neos Kosmos.
The priest sprinkled "holy water" on the statue to "exorcise its demons."
The statue has suffered two vandalism attacks since its installation on Dec. 5. What may have caused concerns among the Christians is that the Palaio Faliro Municipality named the statue "guardian-angel" of the South Athens suburb.
Mayor Dionysis Hatzidakis, however, claimed the Phylax does not refer to the guardian angel as depicted in Christian faith.
Local parish priest Patapios Argyros says that's not true.
"The sculpture is a demon and a soldier of Satan that, instead of being honored, must be despised as blasphemous to the holy trinity," he wrote in an open letter to the mayor. "It is an affront to Orthodoxy and the Christian faith," he continued.
The artist disagrees.
"Who says that the colour of Satan is red?" Georgiou asked. "There are angels with red wings and red hair," he told Greek Channel Skai TV the criticism is led by "a hate-preacher," he claimed. "It is supposed that the opponents are Christians but their soul is anti-Christian," the artist said.
"The work is independent of any approach to religious symbols and emblems," he added. "If they want to demolish, let them do it. If they want to burn it, let them burn it as they were burning books in the past."
The residents of the suburb have started collecting signatures to pressure the municipality to remove the sculpture.