Christians should be 'outraged' that children are being 'trafficked in our own backyard'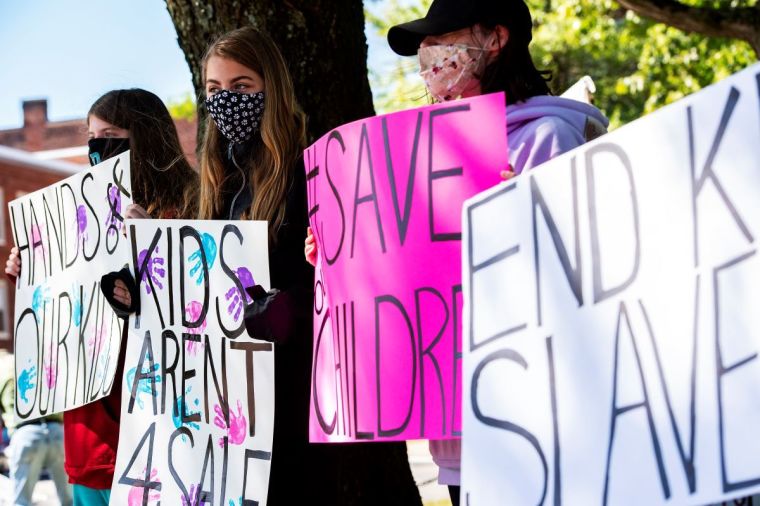 Not just a global problem
The U.S. Institute Against Human Trafficking is coming up on its fifth anniversary and Malone said this all became a reality to him after attending the Super Bowl in 2016 with Jeff Rogers, who co-founded the institute with Malone. 
"I was in Phoenix for the Super Bowl six years ago. While I was there working with the Phoenix Dream Center, there were little boys being trafficked there. I had never really heard much about boys being trafficked," Malone recounted.
"What I was told, in the midst of these boys being trafficked, they were dressed up as little girls. There was a lot of weirdness going on around the Super Bowl. I told Jeff about it and Jeff had three little boys of his own, so he had felt like God had told him that because he had boys that he needed to think about what is going on in the trafficking world regarding boys. 
"Jeff and I believed at the time that God was calling us. He was opening our eyes to the reality that boys were being trafficked, and no one was talking about it or doing anything about it," Malone added. "The more we looked into it, the more research we did, the more we felt God was calling us to open this boy's safe home." 
The U.S. Institute Against Human Trafficking has had over 30 boys go through its program since its inception. The length of stay varies from boy to boy, depending on circumstances and their personal situation. 
"This trauma, what they've experienced, really takes a lifetime to recover from," Malone emphasized, noting that even adult women and men who were trafficked as kids continue to suffer from trauma.  
"A lot of them have been freed up in Christ and have come to be healed through faith in Jesus. With that being said, there's still consequences of what they endured as children or as traffic victims, so we know it takes a lifetime as well," Malone stressed. 
Washinski said they have seen all kinds of success stories, however. This CP reporter met one of the boys who had just graduated high school and was heading into a trade school despite all he had been through.
"It might be different for different kids. So success for one might be getting his GED and having a chance at a job. It might be getting a driver's license; it might be being able to get into a program to learn a trade, or being reunited with their family, or being adopted. We've had kids be adopted. Those are success stories," Washinski testified.
Malone added: "I think success for us, in general terms, would be positioning these boys on a path that leads to health, being happy, being healthy, being productive, being safe. We do what we can to position them to go forward in life and make the best of their life that they can, and we try to equip them and help them get on that path and to stay on that path." 
"We don't believe in conversion therapy because a lot of these boys identify as gay or transgender," he explained. "We don't come in and try to say we got to convert them and switch on them — that's up to God. We love on them wherever they identify on the spectrum of their sexual identity. We love on them, and we show them the love of Christ. We live our lives and they see the way we live, what we believe."
Those who run the house are well-vetted, and along with helping these boys, their aim is to be the hands and feet of Jesus.
"You can't make somebody believe in Jesus or be converted or transformed," Malone stressed. "We just show them the love. We take care of them; we show them compassion. Oftentimes these boys will ask us, 'My parents kicked me out. Everybody hates me. Every time I've come across Christians, they despise me, they think I am the devil. But you guys, why do you guys treat me good? Why do you love me and show me love?'"
Unfortunately, Malone said their ministry has also been attacked by some people in the faith community who have criticized them for taking in boys who are confused about their sexuality or gender. 
"That's when the Holy Spirit works is when we submit, not when we try to change people," Washinski said. "But we love on them like Jesus loved us, and we just love them unconditionally. [When] they run away or they fight with each other, or they do something rebellious, we forgive them and that's when they say, 'There's something different about these Christians, because other Christians that I've run in to do not treat me this way. They shun me; they despise me.' But we know that that is not the character of Jesus."
"We have story after story of gay and transgender kids wanting to know more about this Jesus because they see His love for them," Washinski said. 
Malone added: "We don't compromise the Word of God; we don't compromise our beliefs. We love on them like Jesus would love on them. If you look at Jesus, who He spent His time with, and who He loved on, He was treated the same way we were treated at different times because of our approach. I think many churches in America have become too politically correct, too focused on things that aren't of the Spirit of God and they don't address, for different reasons, what God wants them to address."
"I think God is calling the churches to open your eyes and do something about children that are being sexually exploited in America," he continued. "That doesn't just mean trafficked boys and girls, that means there are kids being sexually exploited in different ways in church homes, through porn. I think it's a direct calling from God, a mandate from God, for churches to step up to the plate and do what they can do because this is going to honor and glorify God, and there are ways to do it."
In July, a massive human trafficking law enforcement operation resulted in the rescue of 47 people who were trafficked, and 102 individuals were arrested across 12 states. Two of the victims rescued were minors.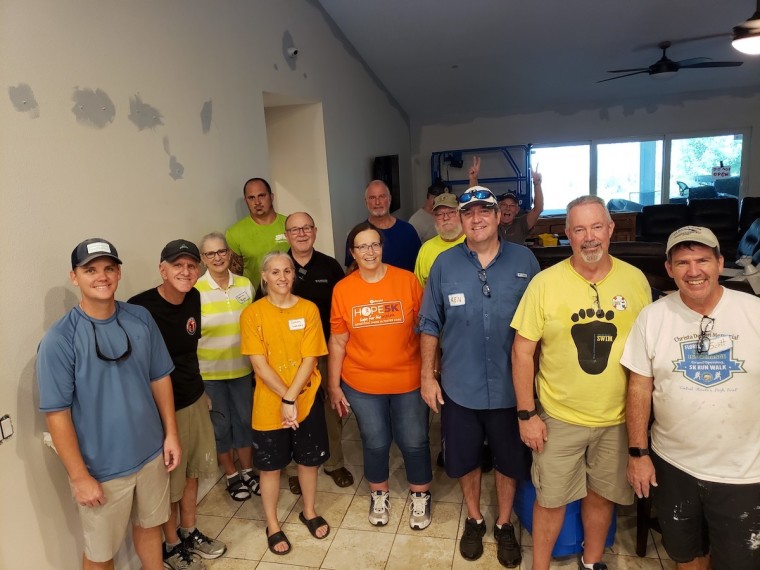 How can the Church help? 
The U.S. Institute Against Human Trafficking provides various resources and opportunities to help churches get involved in the local fight against Human Trafficking. Many of the items in the safe house were donated by supporters and the house was set up with the help of volunteers. 
"Churches can make it available for their members to get involved in anti-human trafficking efforts," Washinski said. "A church has exposure to so many more people than just an individual. So if a church can just come alongside us and partner with us — it's not that every member of the church is going to get involved with our organization — but they can just introduce their members to the issue and to the need, and God is going to move the people within that congregation that are called to human trafficking." 
Both Malone and Washinski believe trafficking is too important of an issue not to be involved in as people of God. They warned that the problem is already "spiraling out of control."
"The church has got to engage, and allow their church members to understand what's going on in America today and give them the opportunity to connect with a ministry like ours so that they can pray, and not just say a prayer, but be committed prayer warriors for our organization," Washinski added. "We have a prayer meeting every other Monday, where it's an organized prayer meeting, and we would love for more churches to engage with us."
With their seven partner churches right now, the U.S. Institute Against Human Trafficking said ministries come alongside them in three different ways — through prayer, financial support and volunteers. 
"So we reach out to these partner churches on a regular basis, letting them know what our volunteer needs are. We pray that they would come alongside us from a financial perspective, at the corporate church level, as well as members of the church, individuals coming alongside us when they learn about our organization, and they feel the Holy Spirit leading them to financially support us as well because we cannot do this without financial support," Washinski added.
For individual members of a church looking to link arms with them, Malone suggested "they might own a business where they could employ a victim."
"There are members sitting in the pews, in the churches that have different ways that they can help our ministry. In the midst of financial support, part of that equation would be people have different types of businesses that could be a blessing to our ministry."
He also noted other components of supports that could help: "If when the boys who are at the home, if we could have maybe a healthy church family take our boys out for a day of going to a sporting event or to Disneyland or a church family just loving on our boys, spending a day with them." 
"A lot of times, I think, Christians, in particular, are afraid to get involved with something that's a little uncomfortable or a little messy," he said. "These boys and girls, they're not going to be the choir boys or choir girls, they've lived on the streets and they've been through some stuff that is unimaginable, but there are so many different ways that the churches and members of churches can get involved."
Although some might feel that fighting human trafficking is an impossible battle because reports indicate that number of people being trafficked is increasing, Washinski said it's imperative that laws are put in place to enforce that this great evil comes to an end on the local level in communities throughout the U.S., not just overseas. She advised churches to contact their state and local politicians to make sure they're looking at laws and policies in the state that will protect kids or provide services. 
"We have a whole volunteer program where we engage our volunteers to come alongside us with a lot of the legislative efforts that we have,"  Washinski urges leaders to connect through their website USIAHT.org. 
On Oct. 8, the U.S. Institute Against Human Trafficking will be hosting a major event where people can learn all that's going on within the organization. Attendees will also learn about what God has accomplished over the last five years through the ministry and their vision going forward.
Malone told CP that the organization provides different curriculums and training such as abolitionist programs and trafficking-free zone for any city, county or state in the U.S.
"The only way that we are going to be able to cut this off is through awareness and prevention," Washinski added. 
According to UNICEF, more than a million children are trafficked each year, with most of the planning happening online and the dark corners of the internet.