India suffers 'meltdown' as COVID deaths surge; Christian group calls for prayer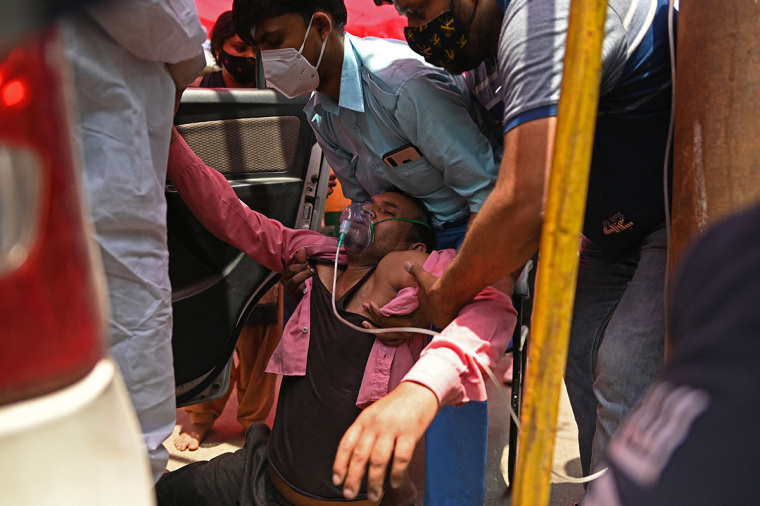 Christians are being urged to pray for India as more than 300,000 cases of COVID-19 were reported for the fifth consecutive day Monday, taking the total number of infections to over 17.3 million amid the Indian government's lack of preparedness as hospitals turn away patients.
The country of 1.3 billion people recorded over 350,000 new infections in the last 24 hours for the first time, Hindustan Times reported Monday, adding that 2,812 people died from COVID-19 in a single day, taking the total number of deaths to 195,123.
Ram Gidoomal, who is of Indian origin and chair of the Christian charity South Asian Concern, described the situation as a "meltdown."
"People dying are in ambulances because they were picked up too late," Gidoomal, who is based in the U.K., told Premier Christian News.
Citing one incident, Gidoomal said, "one ambulance was turned away by four hospitals. Four hours later, the person in the ambulance died. Another person who called in the morning, this is a senior judge in (northern) Uttar Pradesh (state), called the ambulance service. By the time they arrived, his wife was dead."
He continued, "It is harrowing, there's not enough wood to burn the bodies, which is part of the cremation procedure there. There are queues. Normally, when you come from a Hindu family, you want the body to be burned and cremated as soon as possible. I cannot put it into words. It is heart-breaking."
The Indian variant of the new coronavirus is called B.1.617, which has two key mutations that have cropped up in two other strains and is more contagious than previous strains of the virus, according to NPR.
India's healthcare system is overwhelmed and struggling to care for the influx of patients. 
"We are in dire need of oxygen," Dr. A.C. Shukla, head of the intensive-care unit at Delhi's Mata Chanan Devi Hospital, told The Wall Street Journal. "Suppliers have stopped answering our calls."
Time magazine described the situation, saying, "On Friday, Delhi's leading Gangaram Hospital issued an SOS that it only had enough oxygen left for two hours and that 25 patients had already lost their lives in the hospital due to oxygen shortages. Videos show people stealing oxygen cylinders for their relatives."
It also reported that more than 10,000 people were dying from the new variant of COVID-19 every day.
President Joe Biden said Saturday that the U.S. would be sending a surplus of supplies to India, and last week British Prime Minister Boris Johnson said the U.K. will also offer "help and support." 

"We're looking at what we can do to help and support the people of India," Johnson told reporters Friday, the Press Trust of India reported, speculating that the support could be in the form of ventilators or therapeutics.
Gidoomal offered suggestions on how Christians can pray for the people of India.
"I think what we can do is pray for the vaccine program, that those who ordered the vaccines will somehow have compassion," he said.
"Countries like the United Kingdom, where we have 60 percent vaccinated. If the whole world isn't vaccinated … it's still in trouble, so let's share. Let's be generous. We can pray for a spirit of generosity, and wisdom and discernment for governments that together, they can work because each country on its own cannot do it. And for the Indian government to have much wisdom."
Blasting the Indian government for its inability to care for and treat the influx of patients suffering from the new variant, The Guardian newspaper wrote in an editorial, "… Little more than six weeks ago, (Prime Minister) Mr. (Narendra) Modi, with not even 1% of the population vaccinated, declared that the country was the 'world's pharmacy' and signaled that pre-pandemic life could resume. Superspreading took place when thousands filled cricket stadiums and millions of Hindus took a dip in the Ganges during the Kumbh Mela festival."
It continued, "India went ahead with five state elections in April, and an unmasked Mr. Modi held huge rallies. Mr. Modi's brand of Indian exceptionalism bred complacency. A presumption of national greatness has led to a lack of preparedness, most notably in vaccine production."
The editorial added, "The Indian prime minister suffers from overconfidence in his own instincts and pooh-poohs expert advice."
The Indian government said Sunday it had asked social media sites Facebook, Instagram and Twitter to take down posts critical of its handling of the pandemic, The New York Times reported.
The U.S., New Zealand, Hong Kong and the U.K. are among the countries that have either banned direct flights to and from India or have advised citizens against traveling there altogether.