Christmas Services Bombed in Nigeria, 39 Killed by Islamic Extremists (VIDEO)
Christmas Day church services have been bombed in two Nigerian cities, killing at least 39 people, as co-ordinated attacks against Christians were conducted by Islamic terrorists Sunday.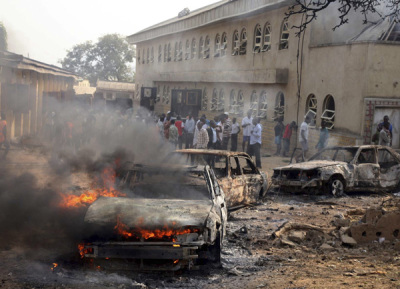 In horrific scenes some of those caught in the blast ran towards a priest with pleas to be blessed before they died. "It was really terrible. People ran towards me, (saying) 'Father anoint me,'" Father Christopher Barde has reported, according to AFP.
At least 35 people were killed, and many more seriously injured in a bomb at St Theresa's Church in Madalla near Nigeria's capital Abuja, where the explosion tore through the roof and left holes in the wall. Islamist terrorist group Boko Haram has claimed responsibility for the attack.
One social worker at the church, Benjamin Ekwegbali, described to AFP the scenes of horror and destruction, with "corpses littered everywhere."
He described: "When the mass was over, all of us were coming out. I had just walked past the front of the church when I heard an explosion. Very loud sound. It shook everywhere. When I looked back to see what happened, it was difficult to see anything. Everywhere was dark. Fire was burning. People were running helter skelter."
In another bombing in a church in Jos, one other person has also reportedly been killed.
At least three further attacks have taken place in Yobe state, in north Nigeria, as another church, the police, and the army were all targeted in the coordinated attacks. In total from Sunday's bomb attacks, at least 39 have been killed, although the number may still rise.
Christian leaders from around the world have been asking for prayers and for governments to protect Christian minority communities, following threats of attacks during the Christmas season this year.
Jonathan Racho, International Christian Concern's Regional Manager for Africa recently said, "We are extremely concerned with the impending anti-Christian violence during this Christmas. We ask Christians around the world to pray for their brothers and sisters who face death simply because of their faith in Christ.
"We urge government officials in the Middle East, Asia and Africa to step up protection of Christians and their properties."
Nigerian Christians Killed on Christmas Day
Boko Haram, which means "Western education is forbidden," has carried out consistent attacks on churches and state institutions over recent months. In August the terror group conducted a suicide attack on the United Nation's HQ in Abuja, killing more than 20.
According to the BBC, National Emergency Management Agency (Nema) spokesman Yushau Shuaibu.has said that the Abuja explosion today happened in the street outside a church. The church targeted is a large one, able to hold up to 1,000 congregants.
It is believed the attack in Jos could spark even further unrest, as it city lies in the region between the Islamic north and the Christian south. More than 1,000 have died in religious attacks in the past two years alone. Just last year during Christmas 2010, Boko Haram also targeted Christians in the city of Jos killing numerous worshippers.