Christopher Duffley Sings a Memorable Version of the National Anthem, Reminding Us That Anything Is Possible!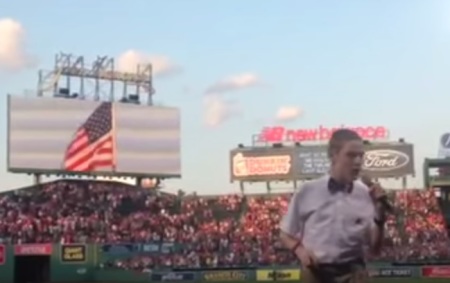 Here's a young man with a beautiful and inspiring voice. Christopher Duffley is blind and has Autism, but the 14-year-old doesn't let anything ruffle his feathers — even the opportunity to sing live in front of thousands of baseball fans at Fenway Park.
The sound of his voice will give you chills. Before he begins to sing, he does a warm up routine that will get you pumped. Christopher has made many other videos that have sparked a lot of interest in this popular young star. It's an amazing blessing to hear this young man lift his voice for others, especially in such a memorable setting.
Watching the young man take to the stage, despite challenges like blindness and Autism, really touches the heart. With the power that God gives him to reach and inspire others, Christopher can do anything — and so can you! We can do anything we put our minds to!
"For nothing will be impossible with God." - Luke 1:37
Listen to Christopher Duffley sing the national anthem below: