Chuck Colson's Last Book 'My Final Word' Hits on Hot Topics of Gay Marriage, Rise of Islam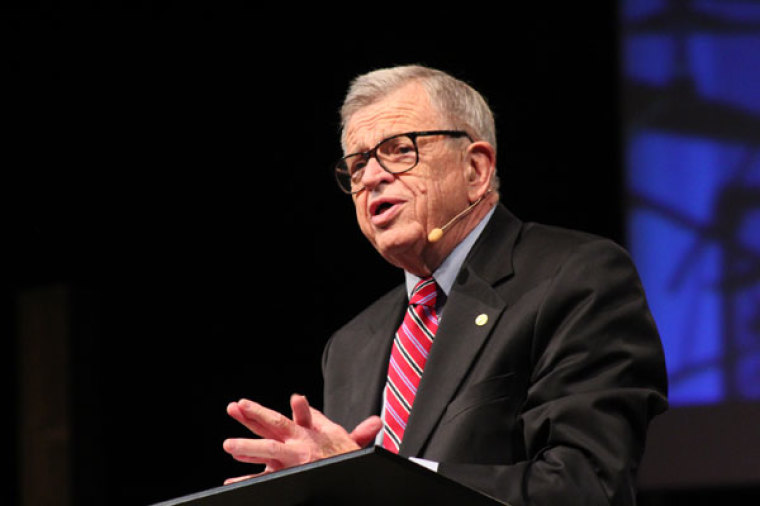 Christian publisher Zondervan announced on Tuesday, on the third anniversary of the death of Charles W. "Chuck" Colson, that the influential evangelical's last published work is set to be released on Aug. 4, and will engage with hot-topic issues such as the rise of Islam and same-sex marriage, among others.
"Chuck Colson was ahead of his time — he understood the crucial issues facing our culture and how they might influence the world as we know it," Stan Gundry, senior vice president and publisher of Zondervan, said in a statement.
"We are honored to have worked with Colson and The Chuck Colson Center for Christian Worldview on My Final Word a fitting end to Colson's distinguished publishing career."
The book is called My Final Word: Holding Tight to the Issues that Matter Most, and is reportedly composed during the last years of Colson's ministry.
Anne Morse, a longtime Colson co-author, said that the selected writings are mostly from the last decade of Colson's life, and concern what he saw as 'key topics of ongoing importance for Christian cultural engagement.'
Some of the topics are set to include the rise of Islam, same-sex marriage, the persecution of Christians, crime and punishment, and natural law.
Colson died at the age of 80 on April 21, 2012, having undergone surgery to remove a blood clot on his brain two weeks prior.
Colson served under President Richard Nixon as Special Counsel from 1969 to 1973, and in 1974 spent seven months in prison for his involvement in the Watergate scandal. He became a born-again Christian in 1973 after a friend gave him a copy of C.S. Lewis' Mere Christianity, and later founded the nonprofit Prison Fellowship, dedicating his life to helping and ministering to prisoners.
The evangelical was honored with various awards throughout his life, including the Presidential Citizens Medal given to him in 2008 by President George W. Bush.
In May 2014 he was also honored with the Charles W. Colson Conviction and Courage Award from Biola University, which celebrated him as a "heroic Christian leader."
Christopher Colson accepted the award on behalf of his late father, and said at the time: "My father was extremely uncomfortable accepting accolades. And if he were standing here today, he would immediately give all the honor to Jesus Christ, and to the thousands of men and women whom he inspired to bring the Gospel to the least, the last and the lost."
David Carlson, vice president of communications, The Chuck Colson Center for Christian Worldview, said that Colson's "wisdom, vision, and insight" will reach readers through My Final Word. He called the book "a behind-the-scenes encounter with an influential thinker, and a needed call to an ongoing and relevant Christian public witness."
Colson's other books include Born Again, Loving God, How Now Shall We Live?, The Good Life, and The Faith.