Church Attacked After Alabama Pastor Says He Would Back Roy Moore Even If Sexual Assault Allegations Are True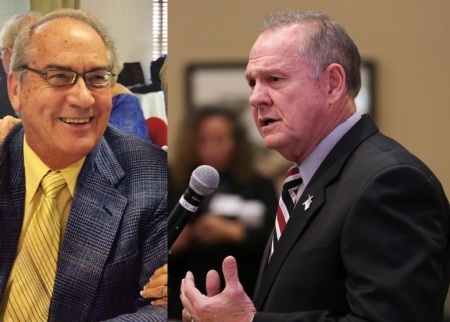 An Alabama church formerly led by Pastor Earl Wise who reportedly declared that he would still support embattled Republican Senate candidate Roy Moore even if it's proven that he sexually assaulted teenage girls in the past, said they've been attacked and branded a "pedophile church" because of Wise's comments.
A representative of the Highland Gardens Baptist Church in Montgomery who declined to give her name on Tuesday told The Christian Post that Wise, who is in his 70s, resigned as the pastor of the church due to old age and they have not kept in touch since.
"He's not the pastor here anymore. He hasn't been here since June," she said.
Since news broke about his controversial comments to the Boston Globe, however, the representative said they have been under attack.
"Some people put some bad things on our Holland Gardens ... anyway, he is not the pastor here anymore," the frustrated representative trailed off reluctantly.
When pressed to explain what those "bad things" were the representative bristled recalling them.
"Some people put some things [about] our church on there, about him and the comments they said that he made or something. They are calling our church saying this is a pedophile congregation and stuff like that," she said.
When asked how it made her feel, she sighed and said: "You know, we're not a pedophile church. We can't help how he comments. He's not our pastor anymore. He doesn't represent us anymore here."
Wise, who also works as a realtor in Millbrook, reportedly suggested to the Boston Globe about Moore's accusers on Monday that they might have been paid to make claims against him.
"I don't know how much these women are getting paid, but I can only believe they're getting a healthy sum," he said.
The Boston Globe further noted: "Wise said he would support Moore even if the allegations were true and the candidate was proved to have sexually molested teenage girls and women."
The now controversial former pastor is convinced that if the stories were true, the women would have come forward with their claims a long time ago.
"There ought to be a statute of limitations on this stuff," he said. "How these gals came up with this, I don't know. They must have had some sweet dreams somewhere down the line."
"Plus, there are some 14-year-olds, who, the way they look, could pass for 20," Wise added.
A week ago, Alabama resident Beverly Young Nelson became the latest of five women to accuse Moore of sexually pursuing them as teenagers. She said at a press conference in New York City with celebrity attorney Gloria Allred that during an encounter with Moore when she was just 16, she thought Moore was "going to rape me."
Leigh Corfman, another accuser, also alleged in a The Washington Post report that she was 14 years old in early 1979 when she met Moore as she waited outside a courtroom in Etowah County, Alabama. He allegedly told her how pretty she was and kissed her when he was alone with her. In another encounter Moore allegedly took off her shirt and pants and removed his clothes. She said he touched her over her bra and underpants and guided her hand to touch him over his underwear.
She defended her claims in an interview with NBC's "Today" on Monday and insists that she was not paid to tell her story.
"If anything, this has cost me," the now 53-year-old woman said of her decision to come forward. She says she had to take a leave of absence from her job.
"I have no tickets to Tahiti and my bank account has not flourished. If anything it has gone down because currently I'm not working," she said.
Corfman told "Today" that her experience with more "took away a lot of the specialness out of interactions with men."
"It took some trust away," she said. "It took years for me to regain a sense of confidence in myself, and I felt guilty. I felt like I was the one that was to blame. It was decades before I was able to let that go."
Despite continued support for Moore among some local clergy, The Christian Post reported Saturday that a group of 59 progressive Christian ministers from Alabama called Moore "not fit for office."
"Even before the recent allegations of sexual abuse, Roy Moore demonstrated that he was not fit for office, and that his extremist values and actions are not consistent with traditional Christian values or good Christian character," reads the letter, whose signatories include 23 United Methodist ministers, eight Baptists, seven Episcopal clergy and seven Presbyterian pastors.