Ciara 'Amazed' by Russell Wilson's Faith After Seahawks Season Ends in Defeat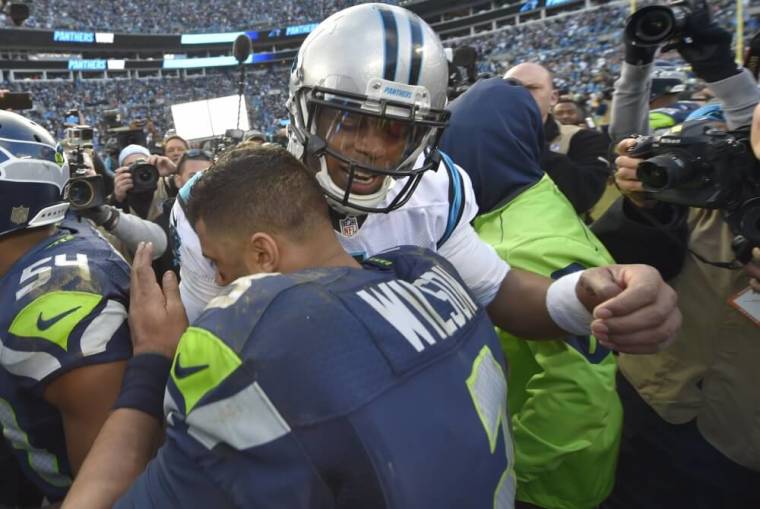 Even though Russell Wilson and the Seattle Seahawks didn't make it past the Carolina Panthers in the NFC Divisional playoff game, his singer girlfriend Ciara Harris says she's been inspired by the Christian quarterback's faith throughout the season.
"My love. I am so proud of you," the 30-year-old singer wrote in an intimate Instagram message to Wilson on Monday. "What a phenomenal season it's been. You never cease to amaze me with your faith, will, integrity, resilience, and courage."
Although the 27-year-old quarterback will not be making a third consecutive Super Bowl appearance, Ciara insists that he still serves as an inspiration to many.
"You always find a way to make things happen when it seems absolutely impossible," she wrote. "Constantly inspiring me and others around. A rare breed you are. My champ. The best is yet to come. I love you."
Wilson seemed to approve of the message, and took to Twitter to respond with a message of his own.
"Sweetest thing I've ever known. I'm so grateful for the loving, sweet, standup woman you are," he tweeted.
The pair's relationship has been well documented in media headlines and even church communities after Wilson, 27, revealed that God told him to lead Ciara in their vow of celibacy last year. In front of Pastor Miles McPherson's The Rock Church congregation in San Diego, California, the quarterback said God revealed that he would lead his girlfriend in a vow of celibacy.
"I asked her 'What would you do if we took all that other stuff off the table and did it Jesus' way, no sex? I knew God had brought me into her life to bless her and for her to bless me, and to bless so many people with the impact that she has and I have," Wilson told McPherson. "We're not going to be perfect, by any means. But He's anointed both of us and He's calling for us to do something special."
Ciara did not oppose Wilson's decision to publicly share their celibacy and saw how it inspired different people.
"I run into different people and they'll talk to me about their journey and their relationships, so I think that's been really cool and it's a healthy thing," Ciara told E! News back in September. "It's a healthy conversation we all get to have as adults. I'm not sweating it at all."
While she had no idea Wilson would initially share the couple's decision to abstain from sex until marriage, she insists she had no qualms about it.
"You know, when Russell talked about it, he was being honest. For what it's worth, I think there are so many people like us," Ciara told E! News. "We get to share real things. We're real people."
Along with telling McPherson and members of the church about his relationship with Ciara, Wilson also shared how God revealed that his team lost Super Bowl XLIX so that the world could see how he would respond.
"God says to me, 'I'm using you. ... I want to see how they respond. But most importantly, I want them to see how you respond," Wilson revealed.