City Refuses to Remove Cross From Veterans Memorial After Atheist Group Complains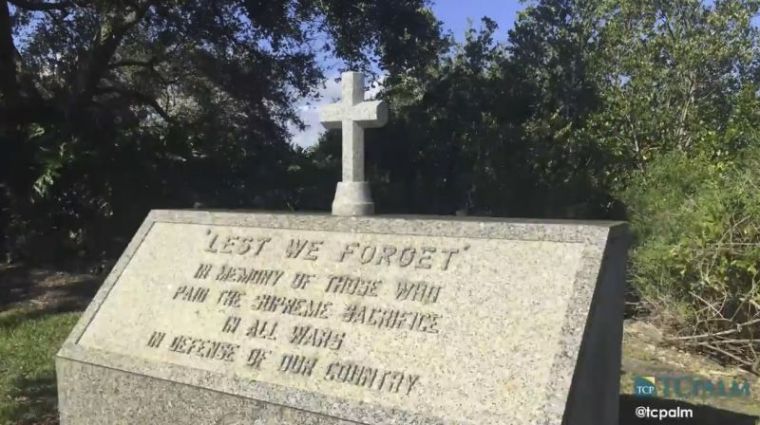 The city of Vero Beach, Florida, is refusing to cave in to an atheist group's demands that it remove a cross from a veterans memorial that was built over 50 years ago, and has even taken steps to prepare for any potential lawsuit. 
According to TCPalm.com, the city's "Lest We Forget" monument, which sits on a 7-acre Veterans Memorial Island Sanctuary and features a 19-inch cross sitting on top, has come under fire from the nation's largest secular legal organization, the Freedom From Religion Foundation.
The Wisconsin-based legal group was contacted by an ex-Christian named Michael Haggerty, a disgruntled resident, which led them to send a letter to Mayor Dick Winger in August, demanding that they remove the cross because, as they claim, it constitutes a violation of the Establishment Clause of the First Amendment to the U.S. Constitution.
"It is unlawful for a city government to display patently religious symbols on city property even to commemorate our veterans," the letter argued. "FFRF has no objection to memorializing veterans. Our objection is to the message of endorsement of religion over non religions. Additionally, this memorial sends the message that the government only cares about the deaths of Christian veterans, not other non-Christian and nonreligious veterans."
Although the letter, which was written by FFRF attorney Rebecca Markert, did not explicitly threaten legal action if officials did not remove the statue, the city felt compelled to accept the help of one of the nation's premiere conservative religious freedom law firms.
TCPalm.com relays that on Tuesday, City Attorney Wayne Comment pressed for council members to accept the Liberty Counsel's offer of free legal representation should a lawsuit arise. Comment's request led to the city council unanimously approving an agreement with the Orlando-based group later that day.
"This is an issue of preparedness, just in case," city council member Harry Howle told the local news outlet.
The council's vote came after members heard comments from veterans speaking in defense of the cross and residents who sought the cross' removal.
"It's not a catch-all," Haggerty was quoted as saying. "It's a divisive symbol."
Vic Diaz, a veteran, argued that the memorial's cross stood for "what's good in mankind."
"That cross out there represents that feeling of many of us who served in the military. We served our country and our fellow man, and that cross should be fought for," Diaz said. "It's a matter of why should someone else's belief have more equality than my belief."
The Liberty Counsel, which is headed by conservative lawyer Mat Staver, gained much notoriety when it came to the defense of Kim Davis, the Christian county clerk in Kentucky who was arrested and made headlines in 2015 over her refusal to issue marriage licenses in the aftermath of the Supreme Court's gay marriage ruling.
Earlier this month, a federal district court ruled in a favor of another Liberty Counsel client, Levy County, Florida, by dismissing a case that was brought by American Atheists against a Ten Commandments monument in the county.