CNN Contributor Says Christian Conservatives Want to Impose 'Sharia Law'; Guest Storms Off Set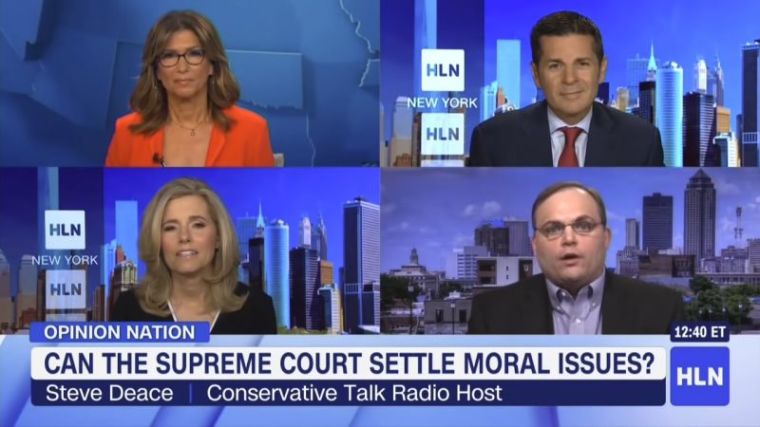 A Christian conservative talk show host walked off the set of HLN during a panel discussion about the upcoming U.S. Supreme Court nomination after a left-wing pundit called critics of gay marriage and abortion "Christian Sharia law advocates."
On Friday, SiriusXM Progress radio host Dean Obeidallah and nationally syndicated conservative radio host Steve Deace butted heads while appearing as contributors on the CNN-owned network.
Speaking about the ramifications of the Supreme Court vacancy that will be left by the retirement of Justice Anthony Kennedy this month, Obeidallah offered his thoughts on what could happen if Trump nominates a staunch Christian conservative, giving conservatives a decided majority on the court.
"The stakes are really high in this country now going into this choice for the next Supreme Court justice. There are people on the right who want to impose Christian Sharia law in this country," Obeidallah said. "What I mean by that is they want to turn the Bible into the law of our land. What I mean by that is Mike Huckabee has literally said that you can not change the Bible but you can change the Constitution to agree with the Bible. Rick Santorum has literally said that our laws must comport with the Bible."
"There are people that want to turn America into the Christian version of Saudi Arabia. This Supreme Court pick might just let them do that," he added. "It is not about morality. Supreme Court decisions have an impact on cultural norms. ... To me, it is less about morality and more about cultural norms and what is acceptable in this country and what is not. Overturning gay marriage or getting rid of Roe v. Wade so women can't control their own bodies [would be a] horrible change to cultural norms in this country."
Later in the segment, Deace weighed in on Obeidallah's remark.
"I came on here to have an earnest conversation. I have been happily on here in the past and we've had one and you started with me and I tried to have a conversation where we get to place of agreement. Right away, you go to Dean after me and he basically says people with my worldview, what do you call us? Christian Sharia?" Deace asked.
Obeidallah answered, saying that he called people like Santorum and Huckabee "Christian Sharia law advocates."
"That is just a preposterous statement," Deace responded.
Sharia is Islamic law.
"Once you say certain things like that, that might be great for Dean's audience in Sirius XM — all the people that already agree with him. I can play this game too. I can go cultural marxist and we can go back and forth with our quips and our trolls [but] nothing gets accomplished," Deace said. "Right away, I made an attempt to have a higher-minded conversation. Instead, we go right to pro wrestling. Dean does his Bobby the Brain Heenan act and any attempt at having any sincerity whatsoever where there might be some common ground is already done."
Deace accused the cable news media of not playing "referee when this stuff happens."
"This is why a lot of conservatives like me don't come on shows like this because we get set up to be foils and set up to be strawmen," Deace asserted. "Here was an attempt where I tried to have a legitimate conversation and it's already over, Carol."
Host Carol Costello agreed and said: "I will take your point. I should have pushed back at the Christian Sharia thing."
Her response seemed to upset Obeidallah. He responded by saying that he has made a similar argument in pieces for CNN and the left-leaning outlet the Daily Beast.
"Just so we are clear, Sharia in this context is simply shorthand for turning religious beliefs into the laws of the land. That is what they are about," Obeidallah said. "I'm not going through the Bible. To me, that's what Sharia is, in the Muslim world, what Sharia is here. That is all I am saying. I'm not sure why you'd be upset unless you're advocating it. I'm not suggesting you are. We don't want laws based on the Bible."
At that point, Deace began taking off his microphone and left the set.
"I do think he felt put upon and in fairness, he felt that you were accusing him as being part of Christian Sharia and that is why he walked out," Costello said. "Perhaps, I should have pushed back at that but I know where you are coming from, right? He was there and he was welcome to do exactly what he did."
"I am sad you are gone, Steve, and I wish you would come back because I do respect your opinions and I think it is vital that you continue to appear on this program," she added.