Congress passes bill to provide relief to ISIS genocide victims after nearly 2 years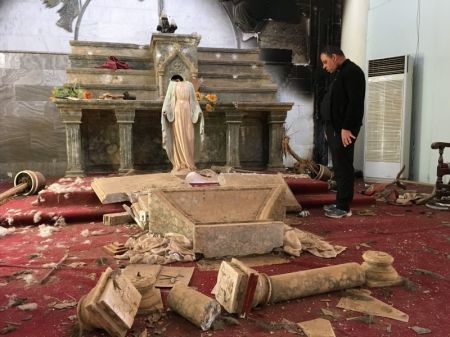 A bill, two years in the making, that aims to provide humanitarian relief to victims of the Islamic State's genocide in Iraq and Syria is finally heading to President Donald Trump's desk.
On Tuesday night, the U.S. House of Representatives passed H.R. 390, also known as the Iraq and Syria Genocide Relief and Accountability Act of 2018. The House's passage of the bill follows the unanimous passing of the legislation by the U.S. Senate in October.
The bill is designed to "provide emergency relief to victims of genocide, crimes against humanity and war crimes in Iraq and Syria" and "provide accountability for perpetrators of these crimes."
Among other key parts of the bill, H.R. 390 would authorize and direct the U.S. government to fund entities, including faith-based organizations, that are directly involved in giving humanitarian and recovery aid to Christian and other religious and ethnic minority communities that were targetted by IS (also known as ISIS, ISIL or Daesh).
The bill would also direct the U.S. government to address humanitarian vulnerabilities and needs that could force the persecuted religious minority communities to flee their homelands even though areas like Mosul, Iraq and Raqqa, Syria have been liberated.
The resolution also urges the State Department to provide assistance to entities and nongovernmental organizations addressing the crimes against humanity committed since January 2014 by IS through criminal investigations and the preserving of evidence that links perpetrators to their atrocities.
The bill's passing comes over 4.5 years after IS took over large swaths of territory in Iraq and Syria. IS militants systematically killed and sexually enslaved thousands while forcing hundreds of thousands of others to flee their homes.
The bill was first introduced by Republican Rep. Chris Smith, an outspoken advocate for international religious freedom, in September of 2016 and was reintroduced again in the new Congress in January of 2017.
"When genocide or other atrocity crimes are perpetrated, the United States should direct humanitarian, stabilization, and recovery aid to enable these people to survive–especially when they are minorities whose existence as a people is at-risk," Smith said on the House floor prior to Tuesday's vote. "HR 390 would ensure our actions match our words."
Today, less than 200,000 Christians remain in Iraq when there were over 1.4 million Christians in Iraq in 2002 and 500,000 Christians in Iraq in 2013. While some displaced Christians have returned to their homes in the months following the liberation, many Christians are stilling living in displacement camps in the Kurdish region.
The genocide also impacted Iraq's Yazidi minority. According to a press release from Smith's office, 60,000 Yazidis fled to Europe while there are still about 550,000 Yazidis still in Iraq with 280,000 of them remaining displaced.
The bipartisan legislation has over 47 cosponsors in the House from both parties including leading Democrat co-sponsor Rep. Anna Eschoo, Calif.
"Tens of thousands of religious and ethnic minorities in Iraq and Syria were targeted for genocide by ISIS between 2014 and 2017," Eshoo said in a statement. "As survivors return to their homes and begin rebuilding their communities, the United States government must make it a priority to help families in need of assistance now, while ensuring the perpetrators of these crimes against humanity are held accountable."
Eshoo, who is of Armenian and Assyrian descent, said that H.R. 390 will send a "powerful message" to the persecuted Muslim communities that the U.S. hasn't "forgotten them."
The bill's passage has also been praised by religious freedom advocates, including those associated with the Washington, D.C.-based lobbying group Religious Freedom Institute, which has strongly supported the bill since its inception in 2016.
"The situation in the Nineveh Plain and Sinjar Province has grown extremely urgent. Unless concrete steps are taken now to help these victims return safely to rebuilt homes, schools and churches, the prospects for stabilizing pluralism in Iraq will be lost," RFI Executive Director Kent Hill said in a statement.
RFI President Tom Farr, a former director of the State Department Office of International Religious Freedom, stressed that the "present and future stability" of the region is "tied directly to preserving these historic and diverse communities of faith."
"Providing emergency relief to these victims is the right thing to do; it is also a strategic component of sound U.S. foreign policy," Farr said.
Passage of the bill was also applauded by the Knights of Columbus, a Catholic fraternal organization that has raised up to $20 million to help rebuilding Iraqi Christian communities in the aftermath of IS.
"The fact that this bill passed both the House and the Senate unanimously shows that the American response to genocide transcends partisanship and that there is enormous political will to protect and preserve religious minorities in the Middle East, including Christians and Yazidis, who were targeted for extinction," Supreme Knight Carl Anderson said in a statement.
Smith is the chairman of the House global human rights subcommittee and has held 10 hearings on the persecution of ethnic minorities in Iraq and Syria.
As the bill now advances to Trump's desk, Vice President Mike Pence has vowed to protect vulnerable Christians in the Middle East in the wake of IS' atrocities. However, the Trump administration has faced some criticism as the humanitarian aid that was promised by the Trump administration last year had taken longer than advocates liked to be distributed.
In October, the United States Agency for International Development announced a partnership with Knights of Columbus to help the administration facilitate humanitarian relief funds and create better relationships with aid partners in the region "to help communities in the Middle East recover from genocide and persecution."