10 Crazy Things I Saw at CPAC 2017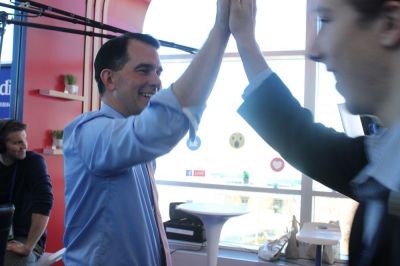 2. Scott Walker breaks his record for most high fives in a row.
Walker, the governor of Wisconsin and former Republican presidential candidate, visited the Facebook Live booth on radio row on Thursday afternoon to give dozens of fans high fives in a promotion organized by Independent Journal Review.
The news outlet had advertised its 1:30 p.m. opportunity for fans to high five Walker throughout the morning. One sign advertised it as the opportunity to help Walker break his "personal record" for most consecutive high-fives. According to an IJR representative who spoke with The Christian Post, Walker's previous personal record was five high fives in a row.
By the time 1:30 p.m. rolled around, dozens of fans lined up to take advantage of the opportunity.
As Walker lined up to prepare to break his record, an IJR employee dressed in a referee jersey told the audience that there will be no "hitting below the belt."
It took about three minutes for the entire line to run through and high five Walker. An early estimate was that 81 people greeted Walker with a high five, allowing him to shatter his previous record.