10 Crazy Things I Saw at CPAC 2017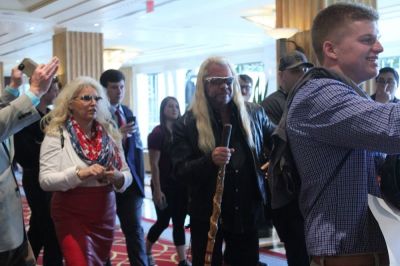 7. "Dog the Bounty Hunter"
The A&E reality TV star Duane "Dog the Bounty Hunter" Chapman was one of the few CPAC celebrity attendees. His presence provided much delight to fans who were surprised to see him and his wife, Beth, walking through the halls on both Friday and Saturday.
The Christian Post caught up with Chapman shortly after he arrived on Friday and asked him what he was doing at the conference.
As "Dog the Bounty Hunter" was not listed on the CPAC schedule, Chapman told CP that he was there to show his support for Milwaukee County Sheriff David Clarke, who is currently being pressured to run against Wisconsin Sen. Tammy Baldwin for her seat.
"I'm here to support Mr. Clarke for his race," he told CP before being surrounded by fans who wanted to take a picture with him in the hotel lobby. "He is a good friend of mine. He's a real good [proponent] of law and order and so am I."
Later in the day, Chapman took questions at a "Draft Sheriff David Clarke for Senate" Super PAC reception.
On Friday night, Chapman attended a dockside "Luau on the Potomac" boat party that was hosted by the far-right news outlet Breitbart in celebration of Trump's victory.
"God has his hand on America, the land of plenty," Chapman told The New York Magazine, "and nobody is getting in American leadership right now that God's not allowing."