Cru director with same-sex attraction explains how Christians should love transgender people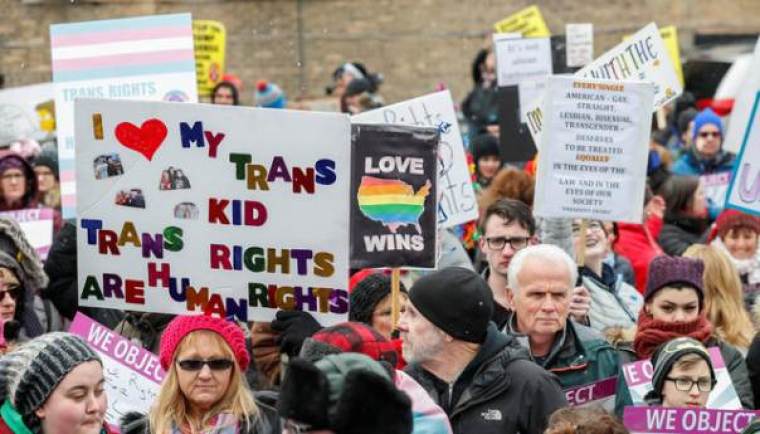 A Christian who struggles with same-sex attraction has offered advice on how Christians should love their transgender neighbors.
Rachel Gilson, director of theological development at Cru Northeast, penned a column published on Desiring God about how Christians should consider transgenderism "not primarily as topics to be discussed, but as issues affecting real people, human beings made by God."
"Many transgender people (though not all) are extremely vulnerable to homelessness, suicide, and abuse ranging from verbal insults all the way to murder," wrote Gilson. "And even if they were not vulnerable in these ways, as image-bearers of our God, they deserve for us to treat them with dignity, respect, and love. If we have any battle to fight, it's with spiritual forces of evil, not flesh and blood (Ephesians 6:12)."
In her experience, the usual response from Christians toward the transgender or nonbinary community has been that of anger or shutting down altogether.
One mistake people can make is to "to forget that we are one with them (trans neighbors) apart from Christ. One in fallen humanity. But also one in being able to be lifted up," she said.
Gilson affirmed that everyone has a God-given sex: "You did not choose your sex any more than you chose your parents. Your sex was given to you by a loving and wise God. How you respond to your God-given sex is part of how you respond to God himself. But because we no longer live in the garden (of Eden), that response from birth — for all of us — is treachery."
She noted that "being in Christ does not heal all sickness or remove all temptation and sin" and that 15 years after being saved she still deals with "same-sex attraction, as well as pride, selfishness, and a host of other struggles."
"We should expect that this also will be true for our trans neighbors who come to Christ. It will be a journey to figure out how to live in their given sex and how to express gender in biblically appropriate ways," she continued.
"We can and must affirm that God created humanity male and female. We can and must also walk patiently with all people who struggle to know what that means for them right now."
Gilson is not the only one who has recently stressed the need to support LGBT individuals while maintaining objections to LGBT ideology.
Andrew T. Walker of the Ethics & Religious Liberty Commission of the Southern Baptist Convention said in a speech at the ERLC's annual national conference in Grapevine, Texas, last month that Christian families must not forsake family members who identify as LGBT.
"Do not abandon them. I do not know how this poisonous thinking infected evangelicalism, but in my role at the ERLC I've heard from parents who have a gay or lesbian or transgender child who think that because their child is identifying as one of those categories, it means they have to abandon them and banish them away," stated Walker.
"If you have that attitude toward others, you should crucify it. If you have that attitude yourself about your child, you need to crucify it. Here's why: because there is nothing, I repeat, nothing that can nullify the relationship between a parent and a child."