DACA Deal 'Probably Dead,' Trump Says, Blames Democrats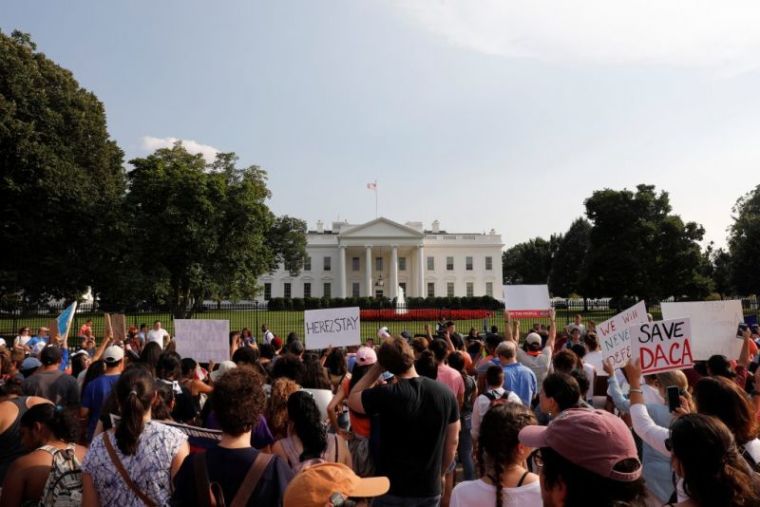 President Donald Trump said Sunday that a program that shields young people brought to the United States illegally from deportation is "probably dead," blaming Democrats for it.
"DACA is probably dead because the Democrats don't really want it, they just want to talk and take desperately needed money away from our Military," Trump tweeted, referring to the Obama-era Deferred Action of Childhood Arrivals program.
The Trump administration rescinded the program in September 2017, but delayed its full implementation for six months to give Congress time to decide how to deal with the population that was previously eligible under the policy.
Trump's tweet comes the day after U.S. Citizenship and Immigration Services said it will resume accepting requests under the program, as a U.S. judge on Thursday temporarily blocked the decision by the president to end DACA later this year, according to Reuters.
Congress is yet to figure out what to do with those who were previously eligible under the program, and Trump has said a wall on the U.S.-Mexico border "must be part of any DACA approval."
Responding to Trump's tweet, Adam Schiff, the U.S. Representative for California's 28th congressional district and a Democrat, wrote on Twitter, "1.) You told Dreamers they had nothing to worry about, then ended DACA. 2.) You claim to support protecting them, but you're using them as leverage for your ridiculous wall. 3.) You rejected a bipartisan deal yesterday. You're fooling no one."
Also on Sunday, Trump wrote on Twitter, "I, as President, want people coming into our Country who are going to help us become strong and great again, people coming in through a system based on MERIT. No more Lotteries! #AMERICA FIRST."
Last week, Trump sparked outrage when he said, "Why are we having all these people from s---hole countries come here?" referring to Haiti, El Salvador and African nations, as reported by The Washington Post. 
The president said this when he was in a meeting at the Oval Office in the White House with several Republicans and Democrats during immigration negotiations, according to the Post, which also reported that Trump said that he would prefer people from countries like Norway to come to America instead.
Jeb Bush, a Roman Catholic and former Governor of Florida, reacted to Trump's remarks about those countries. "For every one step forward @POTUS takes when it comes to judgement and good, coherent policy decisions, he inexplicably and without fail takes ten steps back. I hope today's comments were just a crass and flippant mistake, and do not reflect the hateful racism they imply," he wrote on Twitter.
Responding to criticism, Trump tweeted, "Never said anything derogatory about Haitians other than Haiti is, obviously, a very poor and troubled country."