Father Accuses Boy Scouts of Stripping Merit Badges From Son With Down Syndrome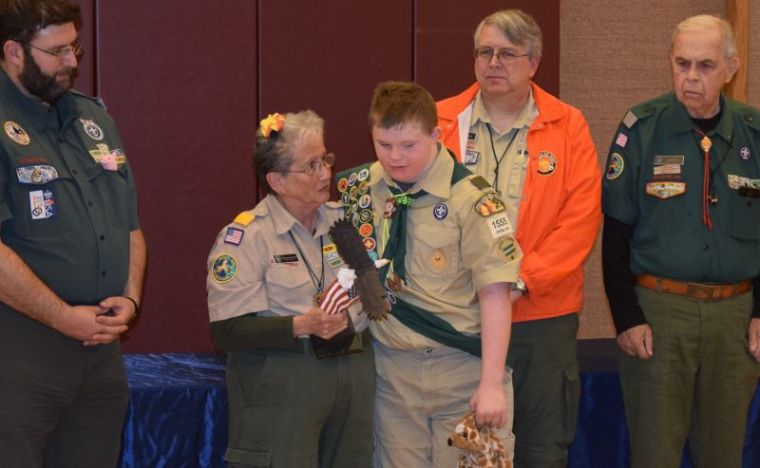 The Boy Scouts of America is being sued after it allegedly nullified the merit badges of a Utah boy who has Down syndrome and reportedly turned down his application to earn the rank of Eagle Scout, a claim the organization has refuted.
Father Chad Blythe has filed a lawsuit against Boy Scouts of America and the Utah National Parks Council in Utah County after he claims his 15-year-old son, Logan, was told to stop pursuing his Eagle Scout project last year.
Although Logan has the cognitive abilities of a 4 year old, he has participated in the Utah County Chapter of the Boy Scouts for the last four years, where he has received dozens of awards, patches and badges.
Because of Logan's disabilities, he hasn't always been able to complete the tasks required to earn some of the merit badges. But the Utah National Parks Council rewarded him with certain merit badges for making the effort.
"For example, if a task is cooking and the instructions are to pour a cup of flour, Logan won't stop pouring," Chad Blythe told Yahoo Lifestyle. "In situations like that, the local chapter has awarded him a badge regardless, for his effort."
Last November, Chad Blythe applied with the Utah National Parks Council for his son's entry into the Eagle Scout program. Blythe disclosed his son's disability and requested he be entered into an alternative Eagle program.
Logan had planned to pass out care kits for newborn babies in hospitals as his Eagle Project.
Logan's project was initially approved on Nov. 9 by the local council. However, the Blythes received notice on Nov. 10, 2017, from the District Advancement Committee informing him that "we should have never said you were approved."
"I have been asked to suspend Logan's Eagle Project approval," the email from the committee explained. "Please do not do any more work on his project."
KSLTV reports that the email told Blythe that even though the local council had approved his son, it was officials with the National Boy Scouts of America who objected.
"When National (BSA) was contacted about possible alternates, we were told that for Star Life Eagle Ranks, there are no alternates," the email explained. "The young man must do the requirements as written, including leadership responsibilities."
Chad Blythe explained that when the family met with the local BSA chapter, they were told that the "national office looked into how Logan had earned his badges and decided that he didn't really meet the requirements."
"The National Parks Council said their hands were tied and they apologized for letting Logan advance so many levels," Blythe said.
The Blythes' lawsuit was filed last Tuesday in the Provo District court. The family is only seeking a payout of $1. The purpose of the lawsuit is to force BSA to reinstate Logan.
"I want the Boy Scouts to change its policy," Blythe told Yahoo Lifestyle. "They should reinstate Logan's badges and acknowledge the fact that not all boys have the same capabilities."
The Blythes' attorney, Ted McBride, told KSLTV that "the Boy Scouts have lost their way."
"The Boy Scouts have made accommodations for those who identify as transgender, they have even accepted girls into the Boy Scouts, and they are going to fight this? For what? To protect the prestigious Eagle Scout badge?" McBride asked.
The BSA released a statement this week explaining that the opportunity to become an Eagle Scout is still on the table for Blythe. BSA stated that its National Disabilities Advancement Team will work with the Blythes to ensure a pathway forward for their son.
"The process of achieving the Eagle Scout rank is rigorous for any Scout, but it is designed so that accommodations can be made for Scouts with disabilities or special needs," the statement reads. "The National Disabilities Advancement Team wants to work directly with the Blythe family to review what Logan has accomplished based on his abilities and help determine a path to earn the Eagle Scout rank that is both appropriate and empowering for him."
The BSA statement also denies that Blythe was stripped of his merit badges. It also denies a claim that Blythe was demoted to Cub Scouts.
Yet, McBride is not satisfied with the BSA statement.
"If they are now going to change their policies, that's terrific. But no one has contacted me about this," McBride said in a statement. "It appears that they are more interested in spinning some positive press. If they were sincere, I would have expected them to call me and change their policy. Logan deserves an apology. Not a generic statement to the public which fails to state that they have no alternatives for him."