Darryl Strawberry Shares Details of Sordid Past Before He Turned to Christ (Watch)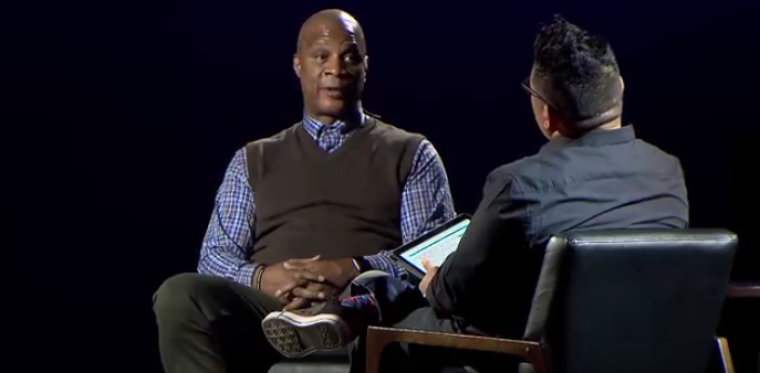 Darryl Strawberry is encouraging men to fully submit their lives to God after the former MLB All-Star overcame struggles with drug addiction and alcohol abuse at the height of his career.
Strawberry visited Saddleback Church in Lake Forest, California, on Feb. 15 where he spoke at a men's ministry event called "Man Up With Darryl Strawberry." While the four-time World Series Champion who played for the New York Mets, Los Angeles Dodgers and New York Yankees over a period of 17 years answered baseball questions during his visit, he also opened up about his sordid past life.
In a conversation with Saddleback men's pastor Tom Kang, Strawberry spoke in front of a congregation of men about the brokenness that led him to Jesus.
"Having all the success I had, the trophies and all the things that I accomplished as a baseball player could never make me well on the inside. It made me look good from the outside but it never made me well on the inside," he said. "So being broken I wanted to be healed. I tried everything."
The everything he spoke of included women, money, success and a drug addiction that included heroin and crack cocaine. However, Strawberry realized that he could only find what he was searching for in Christ "because Jesus is the only healer that can heal whatever affliction you have on the inside."
Strawberry's affliction came from growing up with an alcoholic father who was abusive and threatened him with a shotgun. Even after he made millions of dollars as a professional baseball player, Strawberry was falling apart internally.
He believes many men suffer from similar circumstances of masking their pain.
"So many men are broken and empty on the inside and we get consumed with earthly things and we don't know that there's a greater purpose for our life," the baseball player turned Christian minister said.
The former athlete found his greater purpose as a minister who heads Strawberry Ministries with his wife Tracy. During the event at Saddleback, he also took some time to preach to the men who attended, encouraging them to submit their lives to Christ.
After praying for the men to repent, return to God and forgive others, Strawberry shared numerous scriptures like Matthew 6:33 and Romans 8:28.
"Once you surrender and commit your life to Christ for real and not straddle on the fence anymore, God will demonstrate His power inside of you," Strawberry assured the men listening to the baseball legend.