David Platt Apologizes for Division Caused by Support of Islamic Society's Right to Build Mosque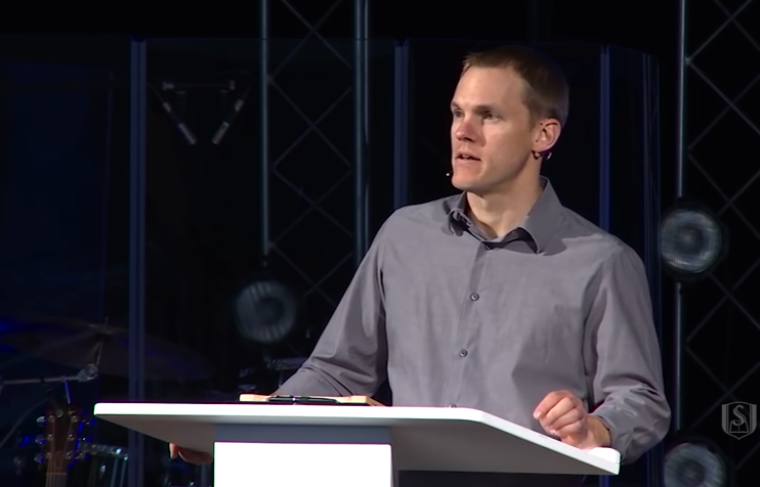 David Platt, president of the Southern Baptist Convention's International Mission Board, apologized Wednesday for the division caused by the organization's decision to join an amicus curiae (friend of the court) brief to support a New Jersey Islamic society's right to build a mosque.
"I apologize to Southern Baptists for how distracting and divisive this has been," Platt said in a Feb. 15 meeting with Baptist state paper editors in Ontario, California, according to Baptist Press.
"I can say with full confidence that in the days ahead, IMB will have a process in place to keep us focused on our primary mission: partnering with churches to empower limitless missionary teams for evangelizing, discipling, planting and multiplying healthy churches, and training leaders among unreached peoples and places for the glory of God," he added.
With support from the IMB, the SBC's Ethics & Religious Liberty Commission and others on the amicus brief, the Islamic Society of Basking Ridge won a landmark ruling on New Year's Eve in their nearly four-year battle to build a new mosque.
U.S. District Court Judge Michael Shipp ruled that Bernards Township's argument that the Islamic group's proposed mosque have more parking spaces than churches or synagogues is unconstitutional. The parking issue was the main reason the township used to reject the plan for the mosque.
Following IMB's amicus brief, Dean Haun, pastor of First Baptist Church, Morristown, Tennessee, resigned from his role as a member of the IMB board of trustees in November.
Haun, who chaired the Northern Africa and the Middle Eastern Peoples Committee of the IMB for two years, told The Christian Post earlier that he resigned after reaching an impasse when he voiced his disapproval with IMB leadership over its involvement in the mosque lawsuit.
After news of IMB's involvement in the brief spread, Haun had received calls and emails from about 60 different pastors from Tennessee, Georgia, Arkansas and Kentucky, who also did not approve of the IMB supporting the mosque.
"As a trustee for the International Mission Board, I was getting call after call from pastors asking me why we did this as the International Mission Board. I had no idea because we were not informed of any of this in our trustee meetings," he said. "If you put our International Mission Board mission and purpose statements on one side and put this action on the other side, it just doesn't fit."
Haun told CP that he wished IMB leadership brought their intentions to get involved in the court case before the trustees to discuss before they went ahead and signed on to the brief. Helping to secure a right for Muslims to build a mosque, he said, is counterproductive to the IMB mission.
"Our goal is to reach the entire world for Christ and this is a religious liberty issue that really has nothing to do with the IMB," he explained. "That was my biggest complaint. First of all, I told leadership that as a trustee, one of my obligations was to try to protect the organization because I had so many pastors calling me upset about it. My second thing was that I felt like this was not a part of our mission and was going to detract from our mission and that we didn't have any reason to do this."
In an interview with Baptist and Reflector, Haun dismissed Islam as a "false religion."
"If we defend the rights of people to construct places of false worship are we not helping them speed down the highway to hell? I want no part in supporting a false religion even if it is in the name of religious freedom," he said. "Our Baptist institutions' names will be on this brief setting legal precedence and supporting the right of mosques to be built all over our nation for years to come."
He continued: "In my opinion Islam, which means to 'submit,' is a geo-political movement that seeks to replace our values and even our faith with Sharia law. I doubt if the situation were reversed if the Muslims would stand up for our religious liberty."
Platt explained that he was "grieved" over the division caused by the brief and that going forward missions is "what I long for the conversation about the IMB to be focused on, for the sake of those who have never heard."
"I am grieved how the amicus brief in the recent mosque case has been so divisive and distracting. And my purpose in bringing it up here is not to debate religious liberty, but to simply say that I really do want IMB to be focused on [its] mission statement," he said.
He noted an intention to introduce a new process at the IMB for filing amicus briefs "that will involve my office and our trustees." He promised to discuss the matter during a Feb. 28-March 1 IMB trustee meeting.
Randy C. Davis, president and executive director of the Tennessee Baptist Mission Board, told the Baptist and Reflector that he appreciated Platt's apology.
"I am very comfortable from having spent some time with Dr. Platt that this will not be an issue moving forward and that it certainly will be with some level of involvement by IMB trustees," he said.
"I greatly appreciate the directness and humility that the leader of our flagship missions organization demonstrated in meeting with Baptist state convention executive directors. I saw the same spirit in one on one conversations with Dr. Platt."