DC Mayor Asks Churches to Help End Homelessness in City in 'One Congregation, One Family' Campaign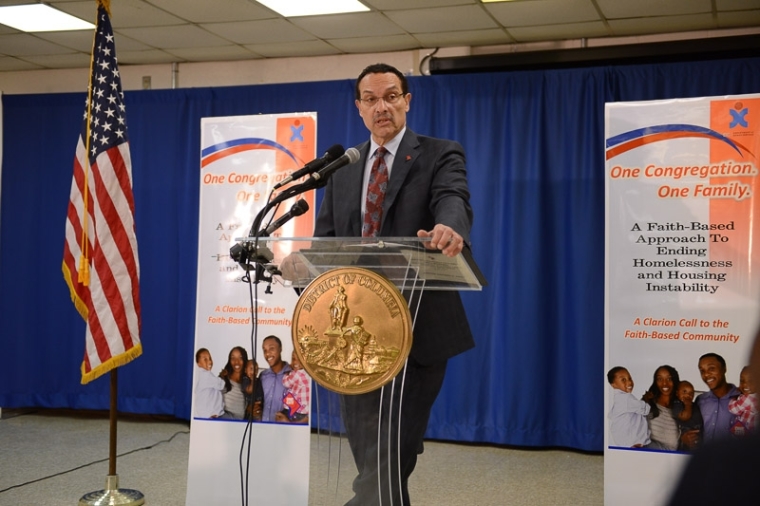 Washington D.C. Mayor Vince Gray rallied the support of churches to launch a faith-based approach initiative to end homelessness and housing instability in the District of Columbia.
The program, "One Congregation. One Family.," which kicked off Wednesday, asks worship houses throughout the city to take on one family and provide emotional, social, and spiritual support to help them become self-sufficient.
"While government can provide supports like job training, housing assistance and other resources, congregations can provide further help and can surround families with positive role models, practical advice and many other resources to help these families once again become self-sufficient and move into secure, permanent housing," Mayor Gray said in a statement.
The D.C. Coalition for the Homeless reports that over 80 percent of homeless families in the District are on public assistance with an income of less than $5,000, most of which are headed by a parent between the ages of 18 and 24.
Furthermore, the U.S. Department of Housing and Urban Development has listed D.C. as the city with the eighth-largest homeless population in the country.
That is why Gray's initiative has garnered the support of faith leaders who are responding to the challenge of promoting practical life skills for these families and individuals.
The Rev. Dexter Nutall of New Bethel Baptist Church in D.C. and program partner tells The Christian Post that despite the initiative's positive intentions, there are some challenges that all parties involved will inevitably face.
"… There are questions that governmental leadership must answer in terms of how resources will be allocated and to what extent programs like One Congregation, One Family and other faith community efforts will be supported," said Nutall.
He added, "I believe Mayor Gray has shown great leadership in offering the opportunity for a unique government-faith community partnership. The question now for both the government and the faith community is whether there is sufficient priority and commitment to make this work."
Although the program's government-faith community partnership is not common, Nutall says serving families in need is a "privilege and moral obligation" of the church. He also notes that the church needs to step in to help because the interests of the government are "too conflicted to adequately address the issue of homelessness."
"The interests of those served by a program like One Congregation, One Family beg the question of how issues of social justice are prioritized. It is difficult to give full attention and resources to the needs of those whose voices are muted when others have and use resources to ensure they receive attention," said Nutall.
In order to ensure the program becomes successful, congregations are being asked to form faith mentor teams that will be responsible for meeting with families who choose to participate at least once a month for six months. The teams will also be trained by Department of Human Service staff on how and when to engage with participating families to ensure that their relationship is supportive-based and not one that perpetuates enabling or proselytizing.
"One Congregation. One Family." complements Mayor Gray's "500 Families. 100 Days." campaign, which aims to address the demand for housing for homeless families by increasing the stock of affordable housing rental units made available by landlords and developers.