Death toll in Sri Lanka Easter attack nears 300; suspects arrested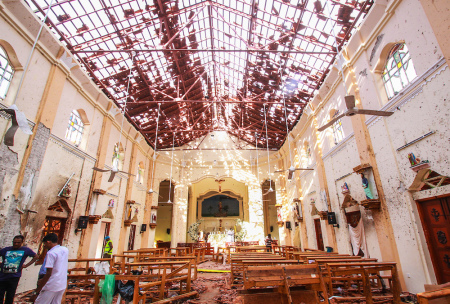 Several suspects have been arrested in the investigation over the bombing of multiple churches and hotels on Easter in Sri Lanka, with the death toll nearing 300.
Two dozen suspects were detained, according to Sri Lankan authorities, for their part in the Easter Sunday bombings that as of Monday morning have resulted in at least 290 deaths.
State Minister of Defence Ruwan Wijewardene explained at a press conference that they were not releasing details about the suspects in order to not "give extremists a voice."
According to the Hindu Business Line, police said that all the suspects belonged to the nation's minority Muslim population.
The extremist Islamic group Thawheed Jamaat is suspected of being behind the attack, although the organization has not yet claimed responsibility.
Thawheed Jamaat is known for advocating for the implementation of Wahhabist Islam, a strict interpretation of the religion that includes mandating that women wear burqas, noted the Times of India.
Another explosion occurred Monday morning near one of the churches as a bomb squad was attempting to diffuse an explosion in a parked van, according to NBC News.
On Sunday morning, a coordinated attack of three churches and three hotels took place. Bombs went off at St. Sebastian's church in Negombo, Zion Church in Batticaloa and St. Anthony's Church in Kochchikade.
Shangri-La Colombo, Kingsbury Hotel in Colombo and the Cinnamon Grand Colombo, three hotels that were holding Easter breakfast buffets, were also targeted.
Sri Lankan Prime Minister Ranil Wickremesinghe released a statement on Twitter denouncing the bombings as "cowardly attacks on our people."
"I call upon all Sri Lankans during this tragic time to remain united and strong," stated Wickremesinghe soon after the tragic event.
"Please avoid propagating unverified reports and speculation. The government is taking immediate steps to contain this situation."
The current death toll includes approximately 40 foreign nationals. This total includes at least eight British citizens, five Indians, two Australians, two Chinese, and nationals from Japan, Portugal and the United States.
Sri Lanka's justice minister, Rauf Hakeem, acknowledged in a statement reported by the U.K. Independent on Monday that the government had received warnings that such an attack was going to happen.
"We regret the fact that the knowledge regarding impending attacks on churches, which was made available through intelligence agencies, was not relayed to the Archbishop. And which, if it were done in time, could have prevented this mayhem," stated Hakeem.