Democratic Leader Decries 'Politics of Division;' Says Republicans Want to Take Away Democracy, More Comfortable in Russia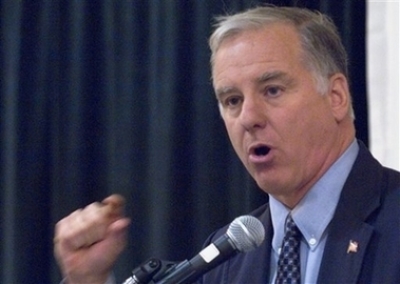 Former Democratic National Committee Chair Howard Dean complained Tuesday about the politics of anger, hate and division from the "extreme right wing," then argued that Republicans are trying to take away democracy, would be more comfortable in Russia or Ukraine, and should stay away from the United States.
"We have had enough of the extreme right wing. We have had enough of the politics of anger, we have had enough of the politics of hate, we have had enough of the politics of division," Dean said at a campaign fundraiser for Democratic congressional candidate Andrew Romanoff in Aurora, Colorado, according to Ernest Luning for The Colorado Statesman.
Dean followed his calls for tolerance by arguing that Republicans and the Tea Party are un-American, opposed to Democracy and should stay out of the United States.
"The Tea Party ... is a desperately dangerous group of people who want to take away our fundamental democracy. ... This is a Republican Party that has decided they like power so much that they think it's okay to win by taking away the right to vote. They are not American. They could be more comfortable in the Ukraine or Russia. But stay away from our country, this is based on the right to vote," he said as the audience cheered.
Romanoff himself criticized the remarks immediately after Dean finished speaking.
"I'm not asking you to demonize my opponent or question his character or disparage his patriotism," he said.
Romanoff also called on his supporters to not behave as Dean just behaved: "Mike Coffman loves this country. So do I. So do you. Let's not make that an issue in this race."
Dean's remarks were similar to remarks made in January by New York Governor Andrew Cuomo when he said there is "no place in the state of New York" for "extreme" Republicans.
Before serving as DNC chair from 2005 to 2009, Dean was the governor of Vermont and ran for president in 2004. He developed a reputation occasionally engaging in frantic outbursts while holding a microphone.
A Coffman spokesperson referenced that reputation when asked about Dean's remarks.
"There's a reason Howard Dean melted down before our very eyes during his failed 2004 presidential campaign — he's a few fries short of a happy meal. His shrill rhetoric is simply reflective of the left wing Democrat agenda Romanoff would gladly rubber stamp," he said.
Some conservative bloggers argued that Dean was hypocritical to complain about divisive politics then lambaste his political opponents as un-American.
"Yes, let's demonstrate tolerance and love by demanding the deportation of all Republicans to Russia. What a wonderful demonstration of open debate!" Ed Morrissey wrote for Hot Air.
"For what it's worth, it never ceases to amaze me how the Party of Tolerance and its adherents can be so close-minded when debating the issues of the day, especially when the position they're advancing isn't widely shared by the public," Daniel Doherty added for Townhall.