Democratic Senator Fundraises Off Defense of Planned Parenthood Amid Aborted Baby Parts Selling Scandal; 'This Makes My Head Explode'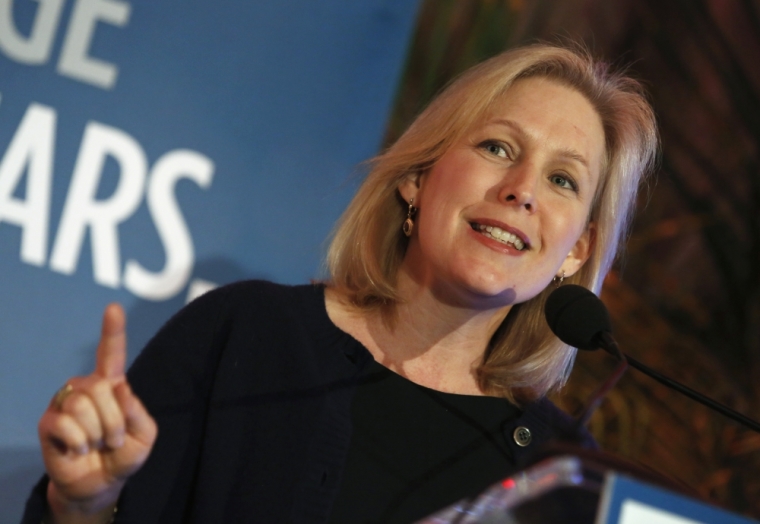 When talking about her head exploding, Sen. Kirsten Gillibrand, D-N.Y., wasn't referring to the content of undercover videos, but Republican efforts to strip Planned Parenthood of federal funding.
Gillibrand blasted out a fundraising letter Monday that slammed Republican led efforts to cut federal funding from the popular abortion provider. Gillibrand wrote to potential financial supporters of the effort, "This makes my head explode."
The Weekly Standard printed a copy of the letter sent out via email following the release of two videos depicting Planned Parenthood allegedly profiting from the remains of aborted baby organs and tissue.
"Right now, Republicans in Washington are pushing legislation allowing employers to fire single women for getting pregnant — AND they're leading an 'investigation' to undercut Planned Parenthood," Gillibrand wrote.
"I'm confident that if we had more women leading in Washington, we would not still be dealing with the right wing's efforts to trample women's health care," she added.
Gillibrand wrote in her letter that female candidates running for the U.S. Senate will help Democrats win back control of the Senate in 2016. Her email concludes by calling on potential donors to give: "Please, click here to give every dollar you can right now."
The current bill to defund Planned Parenthood was written by a female, Sen. Joni Ernst, R-Iowa.
On her Senate website, Gillibrand says "I will protect a woman's right to choose — no matter what."
Gillibrand, the junior senator from New York, currently holds the Senate seat previously held by presidential candidate and former Secretary of State Hillary Clinton. When Gillibrand served in the U.S. House, she was once a member of the Blue Dog Coalition, a group of moderate Democrats.
According to a Politico Story last week, Republican presidential candidates are using the videos to do their own fundraising. Sen.'s Marco Rubio, Rand Paul, and Ted Cruz, among other candidates, are using the story for fundraising purposes for their presidential bids.
When asked about the fundraising, a spokesmen for Rand Paul's campaign declared, "Individuals who sign our petitions want to get involved.
"Unlike Planned Parenthood, Sen. Rand Paul's campaign is not taxpayer-funded and it takes funds to expose heinous acts such as the selling of baby parts," said Paul spokesman Sergio Gor.
In New Hampshire on Wednesday, Hillary Clinton made headlines for calling the videos 'disturbing.' Clinton, a long-time supporter of Planned Parenthood, admitted to seeing still pictures of the video but not the actual footage itself. Clinton, who has consistently defended the organization said the video raises questions about the process of harvesting aborted tissue.
 "This raises not questions about Planned Parenthood so much as it raises questions about the whole process, that is, not just involving Planned Parenthood, but many institutions in our country," declared Clinton.
Clinton also said she supports a congressional investigation, as long as the investigation is broader than just Planned Parenthood.
"And if there's going to be any kind of congressional inquiry, it should look at everything and not just one (organization), said Clinton. "I have seen pictures and obviously I find them disturbing."
In questions regarding the timing of fundraising off of tragedies, some Democrat politicians have received criticism for using high profile shootings to fundraise such as the Sandy Hook shootings in Newtown, CT. Republicans too have been criticized for using the terrorist attack at the American Embassy in Benghazi for fundraising purposes.