Derick Dillard Invites LGBT Community to Attend Church With Him on Sunday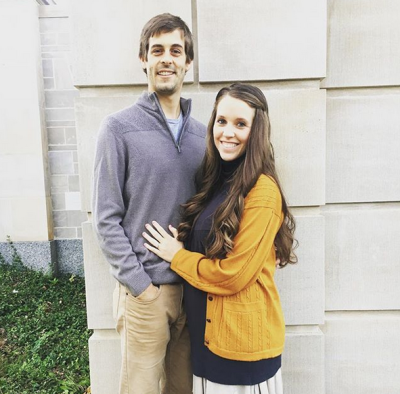 Derick Dillard is inviting members of the LGBT community to attend his church after receiving backlash for condemning TLC's reality series starring Jazz Jennings, a teenage boy who identifies as a girl.
Dillard, the husband of Jill (Duggar) Dillard, whose family was on the long-running TLC series "19 Kids and Counting" and "Counting On," took to Twitter on Sunday to extend an invitation to people in the LGBT community.
"I want to personally invite any LGBTQ person and anyone else who would like to come with my family and me to church next Sunday. See you there," he wrote, posting the address to Cross Church in Fayetteville, Arkansas.
The church also posted a message on Facebook Sunday about an event on same-sex attraction.
On Monday, Ricky Chelette of Living Hope Ministries, which offers "online support groups for men, women, families and friends impacted by same-sex attraction," spoke at Cross Church on the topic of same-sex attraction.
After Dillard posted his invitation on Twitter, one person asked, "Will you accept them as they are or pray they change?"
Dillard responded to the comment by insisting that his church is accepting of all people.
"Our church invites ALL to come. I'm open to all who would join our family," he wrote.
Other people responded to Dillard by claiming that he has mistreated LGBT people. The criticism stems from comments that Dillard tweeted last year about Jennings' TLC show "I Am Jazz."
During an episode of Jennings' show last year, Dillard shared his views in a tweet: "What an oxymoron ... a 'reality' show which follows a non-reality. 'Transgender' is a myth. Gender is not fluid; it's ordained by God."
Dillard also angered some transgender advocates because he referred to Jennings as a "he," which is his biological sex, instead of calling him a girl.  
"I pity Jazz, for those who take advantage of him in order to promote their agenda, including the parents who allow these kinds of decisions to be made by a child," he wrote in October. "It's sad that ppl would use a juvenile this way. Again, nothing against him, just unfortunate what's on tv these days."
The TLC network previously released a statement about Dillard's comments, stating that he would no longer appear on the channel in the future.
"We want to let our viewers know that Derick Dillard has not participated in 'Counting On' for months and the network has no plans to feature him in the future. We want to reiterate that Derick's personal statements do not reflect the views of the network," TLC said in a statement posted to Twitter  last year. "TLC is proud to share the story of Jazz Jennings and her family and will continue to do so."
Dillard, however, insisted he was just expressing his concerns.
"I think it's important to have a mature discussion," he said. "I am just expressing my concerns, as a Christian. The beauty of the world is that everybody is not like me."