Detained Migrants Being Asked to Leave US Voluntarily to Get Their Kids Back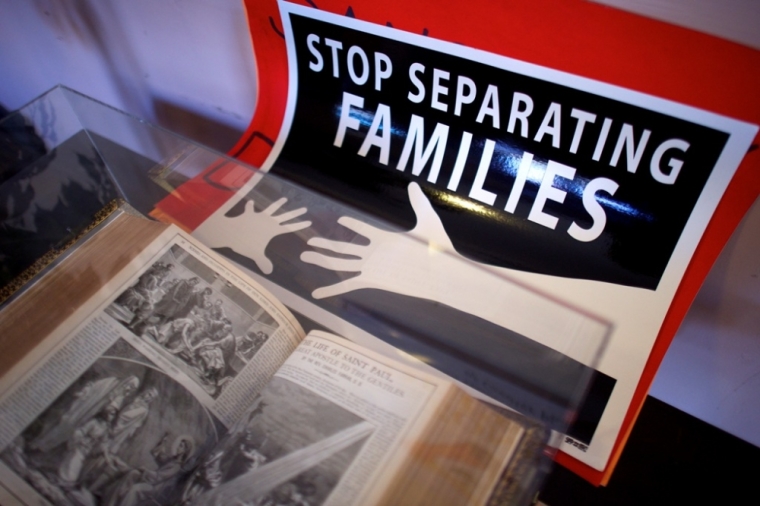 About two dozen men from Central America being held in a detention facility in Texas after they were separated from their children are being asked to sign voluntary deportation papers if they want to reunite with their kids, according to a report.
A 24-year-old detainee from Honduras told The Texas Tribune on Saturday that many of the about 25 men separated from their children and being housed at the IAH Polk County Secure Adult Detention Center outside Houston have been offered by federal officials to get their kids back in exchange for voluntary deportation.
The detention center is a privately-operated U.S. Immigration and Customs Enforcement facility for men.
The source, who was separated from his 6-year-old daughter after they illegally crossed the border in late May to seek asylum, said he signed the papers out of "desperation" and is yet to be reunited with her daughter.
"I was told I would not be deported without my daughter," he was quoted as saying. "I signed it out of desperation… but the truth is I can't go back to Honduras; I need help."
He said he paid a smuggler $7,000 for the 10-day journey from his country to the United States, allegedly to flee violence by organized crime syndicates and gangs in Honduras.
A spokesperson for U.S. Immigration and Customs Enforcement would not confirm whether the allegations are true, telling The Texas Tribune the agency "cannot research vague allegations."
Trump's "zero-tolerance" immigration policy has resulted in the separation of immigrant families, as over 2,000 children have been taken from their parents who are being held in Border Patrol detention centers as their claims are being processed.
Wednesday, Trump signed an executive order ending future such separations, though the order will be challenged in court. Among other things, the order states that administration policy is "to maintain family unity." 
Anne Chandler, Houston director of the Tahirih Justice Center, a national organization that advocates for immigrant women and girls, was quoted as saying it could take up to two months to secure the release of an unaccompanied migrant child.
Cynthia Milian, a private attorney working with the group, doubts if the government would actually be able to return the children to their parents at the time of deportation, keeping in mind the nation's immigration bureaucracy.
Republican Sen. James Lankford of Oklahoma told Meet the Press Sunday that the bureacracies in charge have kept track of all the children separated from their families. 
"We know where every single child is. This is an issue that's gone out there somewhat, in some of the other media that's not been responsible with this, that with the assumption that the administration lost track of that," he said. 
Lankford has also suggested that Congress should cut off certain fund allocated to the executive branch to make permanent Trump's executive order.
"Whatever the executive branch does or doesn't do, the problem still remains to be resolved on the congressional side. I do firmly believe the Flores consent decree and settlement is the issue here," Lankford told National Review last week. Lankford, who was referring to a 1997 court ruling that bars the federal government from detaining minors for over 20 days, added, "The first thing you do is remove funding for the implementation of the Flores agreement to say that Congress disagrees with that settlement agreement."