DeVon Franklin Lists Health Benefits of Observing the Sabbath on 'Dr. Oz Show'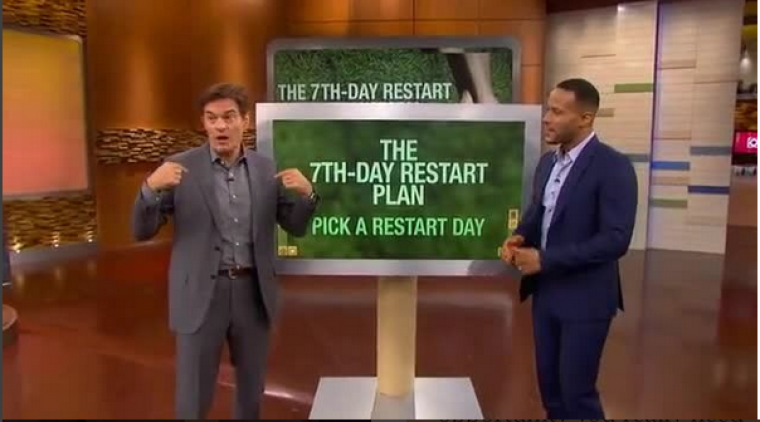 DeVon Franklin is teaming up with Dr. Mehmet Oz to teach people about honoring the Sabbath each week.
As a Seventh-day Adventist, Franklin, who's both a preacher and Hollywood producer, honors the Sabbath each week from sundown on Friday to sundown on Saturday. While he practices this to honor his biblical beliefs, the head of Franklin Entertainment introduced the practice on "The Dr. Oz Show" Thursday as something that could help people's health.
Oz, a cardiothoracic surgeon-turned-syndicated talk show host, let Franklin introduce something called "The 7th Day Restart" on his television program. Franklin, who produced the film "Miracles From Heaven" last year, highlighted the various things that people can do to honor their Sabbath Day at the close of their week.
Oz introduced the "revolutionary idea" of resting on the Sabbath as a way to transform the body for longevity, energy and weight loss. Franklin let people know what they should be doing instead of working, running errands, doing household chores and spending endless hours on social media.
The first major principle that people can do to honor the Sabbath each week, according to Franklin, is to spend time in nature.
"We were created to live in nature. I mean, it's God's country," he said. "We spend most of our week in offices, in front of our computer screen. We never get a chance to get out and see the sun, we never get a chance to experience the wind. So on this seven day restart, you've got to get some 'vitamin n' into your system!"
While suggesting that people can hike, go for a walk, and take in the environment, Franklin also revealed that research showed that spending time in nature reduces stress and improves health. Oz, who has a position at Columbia University's medical school as the surgery department's vice chairman, agreed with the health benefits of spending time outside.
"When we put patients into nature after procedures, they actually recover faster," he said.
Franklin also went on to outline that reading things to edify the spirit were important on the Sabbath instead of reading news that could be a source of stress.
"Normally, the type of reading that I do and the type of reading I suggest is the type that edifies the spirit, the type that helps you become a better person. I spend time reading Psalms, Proverbs and the rest of the Bible," he said. "I also read self help books and that type of reading realigns you with who you are, where you want to be, and what you're supposed to be doing in life. I have a reading list that we'll be posting on your website."
Franklin's other tips for honoring the Sabbath were taking 90 minute naps, which allow people to have the same amount of rest that they would during a full night sleep to recharge, and cooking for loved ones as a "foundation for connection."
Even before making a name for himself in Hollywood, Franklin made observing the Sabbath a priority in his career. The filmmaker previously spoke about his willingness to turn down an internship with acting veteran Will Smith to uphold the beliefs of his faith.
During an interview for an internship to work with Smith, Franklin made it clear that he would make his spiritual observance a priority.
"At an interview for an internship, God impressed upon me to tell the interviewer about my stipulation of Sabbath observance, which means that I don't work Friday night from sundown to Saturday at sundown, which is unusual for people in this business," he recalled in a previous interview with The Root.  "That was my one stipulation. So, I let her know that if you can accommodate that stipulation, then I can take the job. If you can't, I can't take the job."
For Franklin, it was important for him to let his potential employer know that his faith was his highest priority.
"I was just trying to be true to myself. But what I didn't realize was what I was doing from the beginning was letting people know that my faith was important to me," he said. "It wasn't methodical; it was just honest."