DHS chief says US-Mexico border is 'closed'; over 15K unaccompanied minors in US custody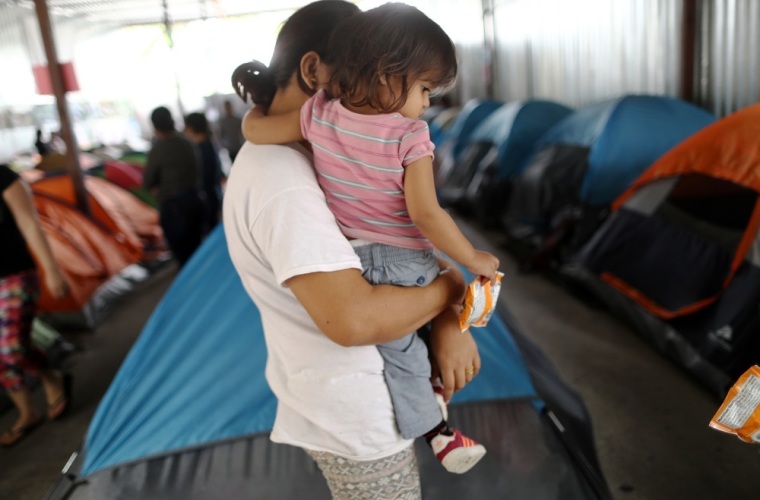 Homeland Security Secretary Alejandro Mayorkas on Sunday said the United States southern border is closed to migrants — a claim refuted by a Republican senator — as there are said to be at least 15,500 unaccompanied migrant minors housed in U.S. custody.
"The message is quite clear, do not come. The border is closed, the border is secure," Mayorkas said on ABC's "This Week."
"We are encouraging children not to come," Mayorkas added. "Now is not the time to come. Do not come. The journey is dangerous. We are building safe, orderly and humane ways to address the needs of vulnerable children. Do not come."
Amid increasing criticism from Republicans and some Democrats who say there is an ongoing crisis at the border, the Biden appointee assured during the interview that the administration knows "how to address it." 
"We have a plan, we are executing on our plan, and we will succeed," he said. "This is what we do."
Mayorkas blamed the Trump administration for the border situation.
"The entire system under United States law that has been in place throughout administrations of both parties was dismantled in its entirety by the Trump administration," he alleged. "So we are rebuilding the system as we address the needs of vulnerable children who arrive at our borders."
Data reviewed by CBS News suggests that the U.S. government is housing about 15,500 unaccompanied migrant minors, including 5,000 teenagers and children stranded in Border Patrol facilities not designed for long-term custody, as of Saturday.
According to the data, unaccompanied children are spending an average of about 136 hours in Customs and Border Protection custody even though U.S. law says the limit is 72 hours. 
More than 100,000 people crossed the southern border illegally in February.
Sen. Tom Cotton, R-Ark., refuted the claims made by Mayorkas.
"He's basically saying the United States will not secure our border and that is a big welcome sign to migrants from across the world," Cotton told "Fox News Sunday."
"The border is wide open. There are reports now Custom and Border Patrol may be directed to simply start processing people into the country without even giving them a notice to appear in court," he said
"And, of course, all of these bogus asylum claims are taking up so much manpower and resources of the border, that means that we also have other threats, like increases in fentanyl and other kinds of drug trafficking or persons on the terrorist watch list crossing to our border," he added. "The border right now is wide open because the Biden administration dismantled the very effective policies of the Trump administration and the agreements we had with Mexico and other Latin American countries."
Cotton called on Biden to reinstate a "public health" restriction for minors and carry on with Trump-era policies that sought to keep pending asylum seekers in Mexico and required migrants to make asylum claims outside of the U.S.
Rep. Henry Cuellar, D-Texas, believes that the Biden administration may force some migrants to wait on the other side of the border while their asylum claims are adjudicated. 
"The Secretary now has said that they're going to be looking at some sort of processing centers in Mexico, but they need Mexico's help to process people before they come into the U.S. In my opinion, it's a modified version of the MPP," Cuellar said in an interview with "Full Measure," referring to the Migrant Protection Protocol.
Texas Gov. Greg Abbott ordered an investigation into the water supply at a camp for migrant children opened by the Biden administration in Pecos after the water supply in another center was undrinkable.  
"The Biden administration continues to show that it is dangerously unprepared to handle the surge in illegal border crossings as they rush to open yet another facility for unaccompanied minors in Texas," the Republican governor said in a statement. 
President Joe Biden said Sunday that he plans to visit the Mexico border "at some point."
"At some point, I will, yes," he told reporters at the White House after being asked if he wanted to see first-hand what's happening at overcrowded migrant processing centers, according to Bloomberg. "I know what's going on in those facilities."
The Washington Post recently reported that the Biden administration planned to convert immigrant family detention centers in South Texas into rapid-processing hubs to screen migrant adults and children and release them within 72 hours.
The Biden administration has dismissed calls to describe the influx of migrants at the southern border as a "crisis," with White House Press Secretary Jen Paski rejecting the term "border crisis" outright. 
"I don't think we need to sit here and put new labels on what we've already conveyed is challenging," Psaki said recently at a press briefing.