Did David Cameron Know Refugees Entering UK May Have Come From ISIS-Run Camps?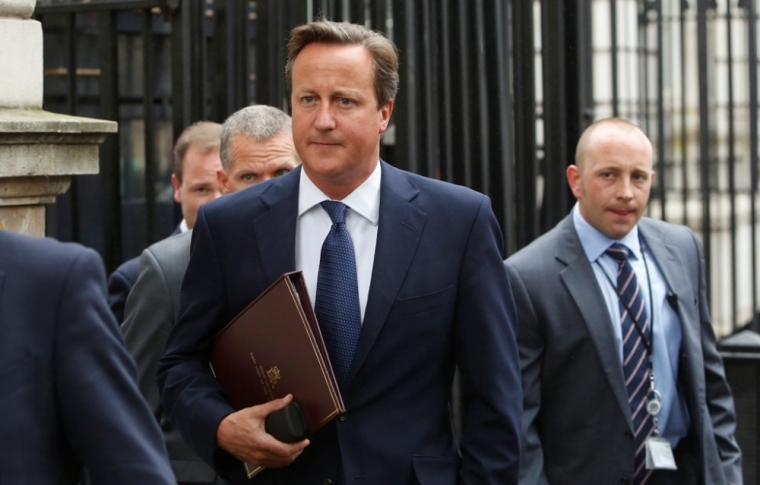 Many of the 20,000 refugees entering the United Kingdom are coming from camps in Jordan and Lebanon, and reports are emerging that some of the camps may be under the control of ISIS.
The Express reported Wednesday that U.K. Prime Minister David Cameron is coming under attack for possibly having been informed that the refugees were coming from camps that may be controlled by ISIS but still deciding to let the refugees settle in the country.
"In September 2015 Lebanon's Education minister Elias Bou Saab told British Prime Minister David Cameron during a tour of refugee camps that some Syrian refugees travelling to Europe were Islamists, adding that this was also the case among those living in refugee camps," read a portion of the report by Barnabas Fund, an international Christian aid agency.
Mike Hookem, a member of the European Parliament and U.K. Independence Party defense spokesman, has also said they have been informed that Lebanese camps have been infiltrated.
"My sources in Lebanon have said for a long time that the refugee camps where Britain is sourcing the 20,000 refugees from are run by terrorists and are absolutely unsafe," declared Hookem, according to The Express.
"If David Cameron did know about this and did not pay attention, at the very least, he needs to be hauled up in front of the Home Affairs Select Committee and answer these questions.
"We need to make sure we have a Prime Minister who puts the welfare of the British people above the appearance of 'doing the right thing' in front of the international community."
The contentious debate on Syrian refugees and national security is not only isolated to the U.K., but also is a hot button issue in the United States.
In October, FBI Director James Comey testified before lawmakers on Capitol Hill in October that there are gaps in security for refugees who are admitted into the United States.
"There is risk associated of bringing anybody in from the outside, but specifically from a conflict zone like that," said Comey.
"There is no such thing as a no-risk enterprise and there are deficits that we face."
Comey and other intelligence officials have noted that accepting refugees fleeing the Syrian Civil War poses more challenges than even those coming from Iraq because of less on-the-ground intelligence in the region.
Homeland Security Director Michael McCaul has sounded the alarm on possible risks refugees pose to national security.
"The United States government has information to indicate that individuals tied to terrorist groups in Syria have already attempted to gain access to our country through the U.S. refugee program," McCaul said during a Homeland Security address in Washington this month.
Last month, after the terrorist attack in Paris where some assailants posed as refugees, nearly 30 state governors expressed opposition to President Barack Obama's refugee resettlement program. The U.S. is expected to accept a minimum of 10,000 refugees from the Syrian civil war and Middle East region in 2016.
The Wall Street Journal reported that German police arrested a refugee inside the country with suspected links to the Islamic State on Thursday.
"We mustn't regard refugees with a general suspicion. But it's also true that concerns aren't unfounded that some potential threats might be among refugees," said Wolfgang Bosbach, a member of the Bundestag and official in Chancellor Angela Merkel's government.