DMX dies from heart attack at 50; rapper remembered as a 'warrior'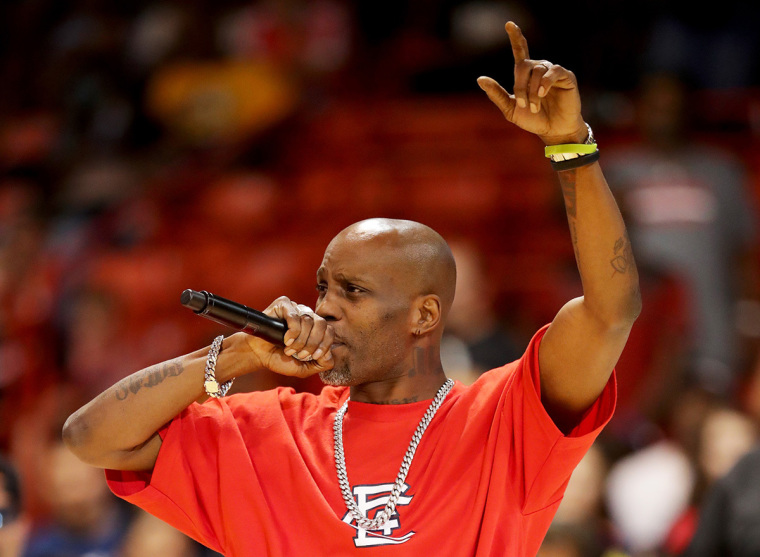 Earl Simmons, known by his rapper name DMX, died on Friday at White Plains Hospital in New York. He was 50 years old.
DMX's family issued the following statement about his death:
"We are deeply saddened to announce today that our loved one, DMX, birth name of Earl Simmons, passed away at 50-years-old at White Plains Hospital with his family by his side after being placed on life support for the past few days. 

Earl was a warrior who fought till the very end. He loved his family with all of his heart and we cherish the times we spent with him. Earl's music inspired countless fans across the world and his iconic legacy will live on forever. 

We appreciate all of the love and support during this incredibly difficult time. Please respect our privacy as we grieve the loss of our brother, father, uncle and the man the world knew as DMX. We will share information about his memorial service once details are finalized."
The Baltimore, Maryland, native grew up in Yonkers, New York, and despite his troubled childhood, he went on to have a successful career in hip-hop music spanning over two decades. 
According to multiple reports, DMX was admitted to the hospital last week after suffering a heart attack and collapsing in his home. Many news outlets have reported that the heart attack might have been triggered by a drug overdose, but those reports have not been confirmed by his family.
Hundreds of the rapper's fans attended a prayer vigil Monday outside the hospital. Now fans worldwide are reacting to the news of his death.
Gospel trailblazer Kirk Franklin Tweeted, "Life is so short... Broken hearts for DMX and his family..."
Andy Mineo, known for his Christian rap music, wrote, "RIP DMX. The pit in my stomach man."
"Rest In Peace to a cultural icon. There are no words that can mend this loss. Nothing but fervent love, prayers and peace for DMX's family, friends and fans," Pastor Westley West, founder and senior pastor of Faith Empowered Ministries in DMX's hometown of Baltimore, Maryland, shared on Twitter.
Chance The Rapper added, "Rest in Heaven DMX."
"The Real" co-host Loni Love shared her personal experience about a time when the rapper prayed with her for 30 minutes.
"I was fortunate enough to meet #DMX many times but my fav memory was when he & @sherrieshepherd were in an airport together. She called me and X took the phone and we talked, laughed & prayed a good 30 minutes ... I wish we had more time.
DMX's most recent music release was for a new Christian song released by evangelist Mike Servin. 
The single titled "Prayer," featuring Mike Servin, DMX and Kurtis Hoppie is reportedly from the movie soundtrack GTI.
The mainstream rapper's involvement in the faith-filled song had fans speculating on whether the professing Christian would follow in Kanye West's footsteps and release his own gospel album.
The hip-hop recording artist has had many public mishaps, from a drug overdose in the past to various arrests. But in a recent sermonette he shared online, he said tragedy is what has brought him closer to God.
DMX spent the past few years sharing the Gospel on his mainstream platforms while trying to stay sober. In April 2020, he led thousands of his followers in a Bible study in hopes of calming the anxiety brought on by the COVID-19 pandemic and lockdowns.
The Instagram live video reached thousands as DMX recited scriptures from Ecclesiastes while holding a cigarette.
The mainstream rapper never shied away from sharing his Christian faith despite his sometimes vulgar music. Throughout his career, he recorded several songs talking about his faith, including "Lord Give Me a Sign" and "Damien."
DMX had openly said in the past that he wanted to become a pastor. In a video posted on Facebook in 2016, he stated that his dream of becoming a minister was slowly becoming a reality. 
He is survived by 15 children. He died with his family by his side. Details for a memorial service have yet to be announced.