Dolly Parton Reveals an Intervention From God Saved Her From Committing Suicide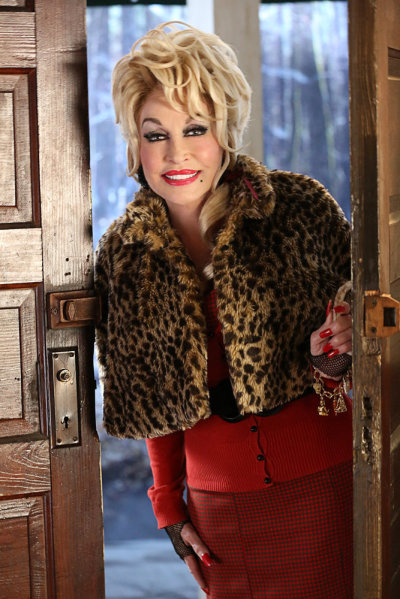 A newly released book, titled Dolly on Dolly: Interviews and Encounters with Dolly Parton, brings to light a time when the country megastar was suicidal and she credits prayer and an intervention from God for saving her life.
In the new book, Dolly on Dolly, the legendary singer reveals she became deeply depressed back in the 1980s after breaking up with an unnamed fling she had at the time, while in an "open relationship" with her long-time husband, Carl Dean.
"I was sitting upstairs in my bedroom one afternoon when I noticed in the night stand drawer my gun that I keep for burglars," she says in the book. "I looked at it a long time ... Then, just as I picked it up, just to hold it and look at it for a moment."
"Our little dog, Popeye, came running up the stairs. The tap-tap-tap of his paws jolted me back to reality. I suddenly froze. I put the gun down. Then I prayed. I kinda believe Popeye was a spiritual messenger from God," she adds.
It was a combination of her depression and her battle with binge eating disorder that led her to thoughts of suicide.
"I don't think I'd have done it, killed myself, but I can't say for sure. Now that I've gone through that terrible moment, I can certainly understand the possibilities even for someone solid like me if the pain gets bad enough."
According to Amazon, the book, written by Randy L. Schmidt, is Parton's rags-to-riches tale like no other.
"A dirt-poor Smoky Mountain childhood paved the way for the buxom blonde butterfly's metamorphosis from singer-songwriter to international music superstar. The undisputed 'Queen of Country Music,' Dolly has sold more than 100 million records worldwide and has conquered just about every facet of the entertainment industry: music, film, television, publishing, theater, and even theme parks. It has been more than fifty years since Dolly Parton arrived in Nashville with just her guitar and a dream. Her story has been told many times and in many ways, but never like this," the synopsis reads.
Although Parton's hit Christmas special, "Coat of Many Colors," offers some details of her humble beginnings, Dolly on Dolly provides a lot more insight to some of the struggles the American icon had to face growing up.
The 71-year-old revealed that she and her 11 siblings had to bathe in the river and regularly share a bed with three to four kids.
"That was the only warm thing we knew in the wintertime. That was our most pleasure to get peed on," Parton admitted. "If you kept the air out from under the cover, the pee didn't get so cold."
Parton's Christian faith has never been a secret and from a young age she was very clear on what she was "called" to do in life.
"When I grow up I'm going to be a big star. If I can hold God's attention, I can hold the whole world!" she is quoted as saying in her movie "Coat of Many Colors." The true-life storytelling provided an unforgettable message of how faith and love is very instrumental in her life.
In a recent sit down with CBN News Parton said her childhood memories are very vivid and many of the things she learned in church are still a major part of her life and music today.
"I keep all that stuff very close to my heart. I grew up knowing that Jesus loves me. And I knew that through God all things were possible. I grew up with those things that we just heard all the time. My grandfather was a really good preacher," Parton told CBN.
Parton's grandfather was a pastor and his "hellfire and brimstone" preaching is why she wrote the song, "Daddy Was An Old Time Preacher Man."
"It was about him, about my grandpa. One of the lines is he preached hell so hot, you could feel the heat," she explained.
She says her 1974 hit song "I Will Always Love You" was also divinely inspired, noting that God gave her the lyrics because they did not come from her.
"People say, 'Well, I am surprised that you talk about your faith,' and I say, 'Why not? That's who I am. That's what keeps me going,'" the Nashville resident stated. "Any time I write something that is just a line that I know didn't come from me, I just sort of say, 'Hey, give me a high five, Lord. Give me a thumbs up.'"
During the interview, Parton went on to talk about her 50-year marriage to Dean, which she also says was God's doing, insisting that God knew Dean was going to need somebody like her and vice versa.